Don't we all love Elden Ring? It gives out a very realistic vibe with a very unique storyline, well we have a reason for it. Elden Ring is an action-adventure role-playing game developed by FromSoftware. As being from the home of animes, the game has no limits when it comes to creativity but one other interesting thing is that they have made the game in collaboration with George R. R. Martin, who provided the materials for the game's setting.
We don't know the exact contributions of Martin to the game, but Eldon Ring sure does emits some GOT Vibes
Who Is Godfrey In Elden Ring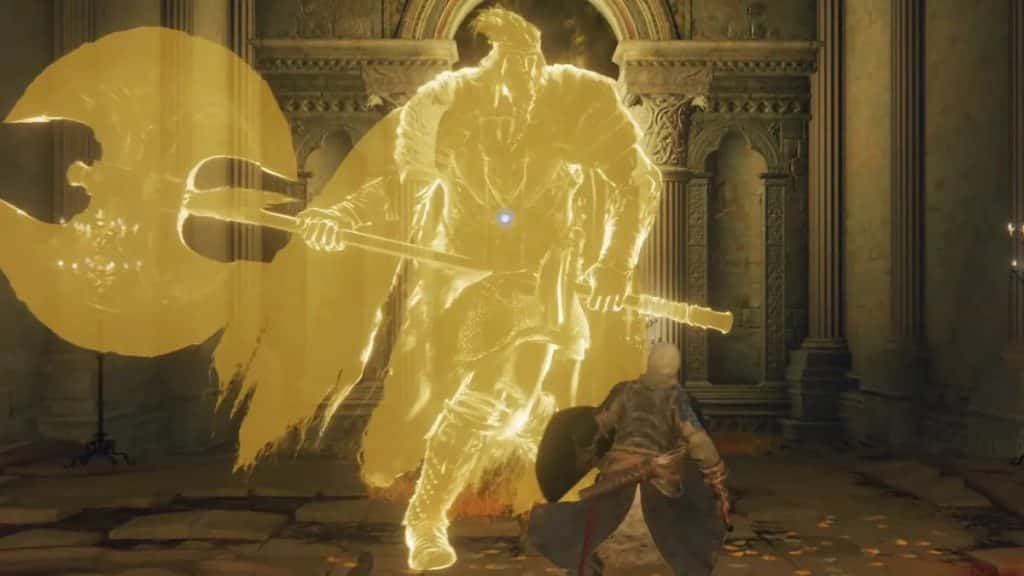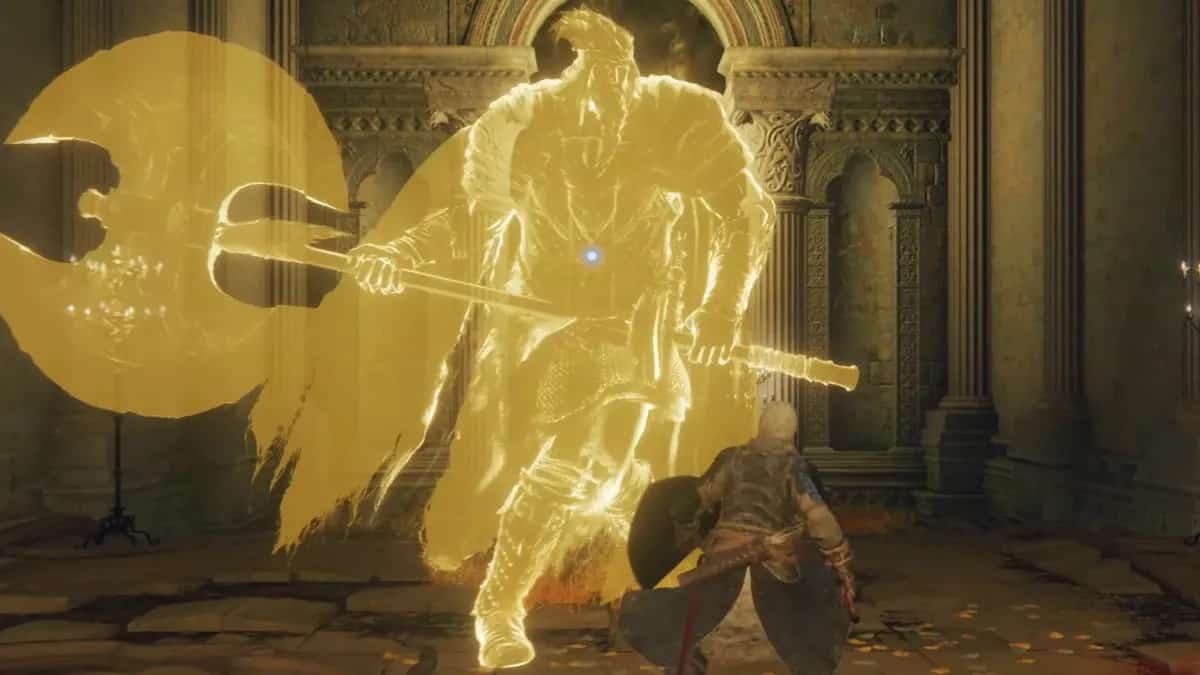 Elden Ring is a well-thought open-world game with the main characteristic being freedom, the game won't guide you much, you can explore it all on your own and the game will develop according to your actions. Your experience will vary with your friend as he will miss some things that you have enjoyed and vice-versa.
Also, the game has deep stories connected with NPCs. Stories of gods, demigods, travelers, merchants, fighters, and warriors are so well written that you will remember them forever. The responsibility of Maliketh, the tales of the queen, and many more. One of such amazing characters is Godfrey.
Have You Read: Elden Ring: How To Best Margit The Fell Omen
Godfrey was a First Elden Lord and a legendary fighter with some superhuman legendary prowess. Godfrey was the first husband of Queen Marika. Godfrey lost his grace after he fulfilled his purpose. He got exiled from the Lands between and became the very first Tarnished.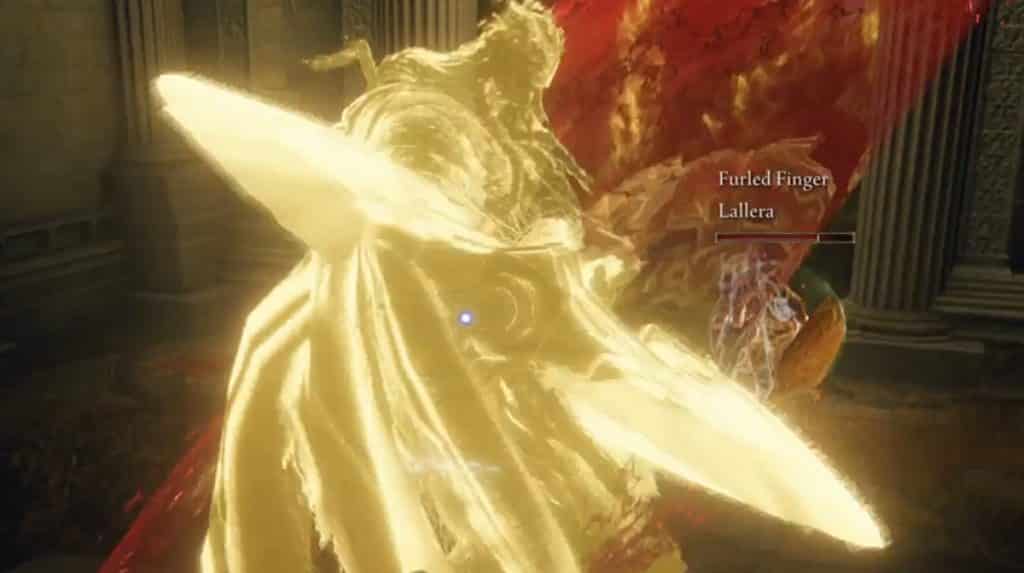 Today, we are here to discuss the ins and outs of the fight with Godfrey.
Elden Ring: Defeating Godfrey, First Elden Lord
The golden ghostly giant god, swinging a huge ax around. It is easy to defeat the first Elden Lord if played with patience. Godfrey takes his ax over his head before attacking and by paying close attention you can easily predict his move, as there are only a few attacks he does in this form. He attacks our avatar in combos, usually of three moves, so it's easy to attack in between those. Also to block those moves you can use your shield to block, but it will take a toll on your stamina, so monitoring it is the key. A regular shield will just fine against these attacks.
The thing which makes Godfrey an easy opponent to defeat is that his animation takes a lot of time so dodging it is easy, also even if your guard broke, you will be fine, just remember to heal yourself after taking damage but do it after making a safe distance from him.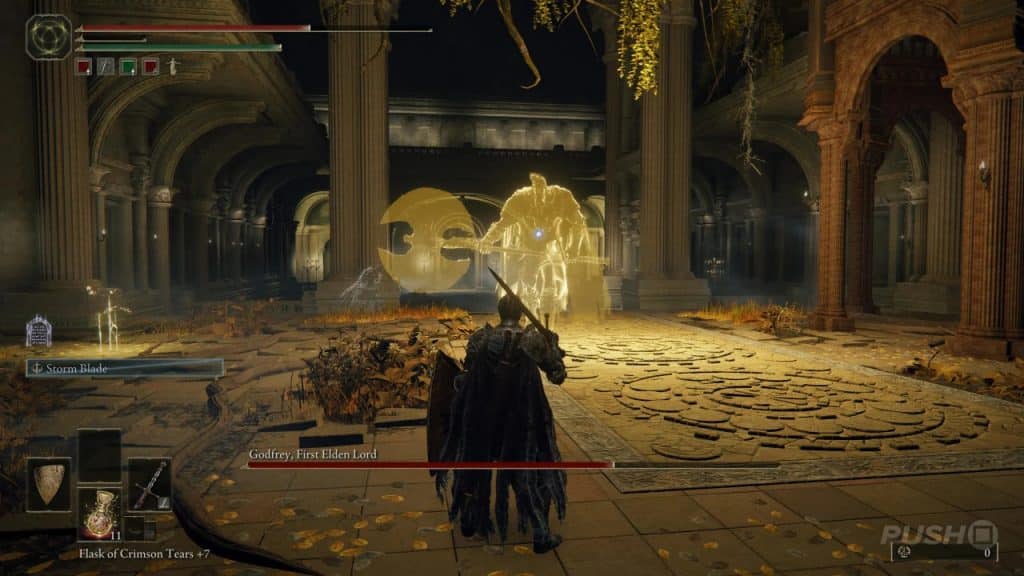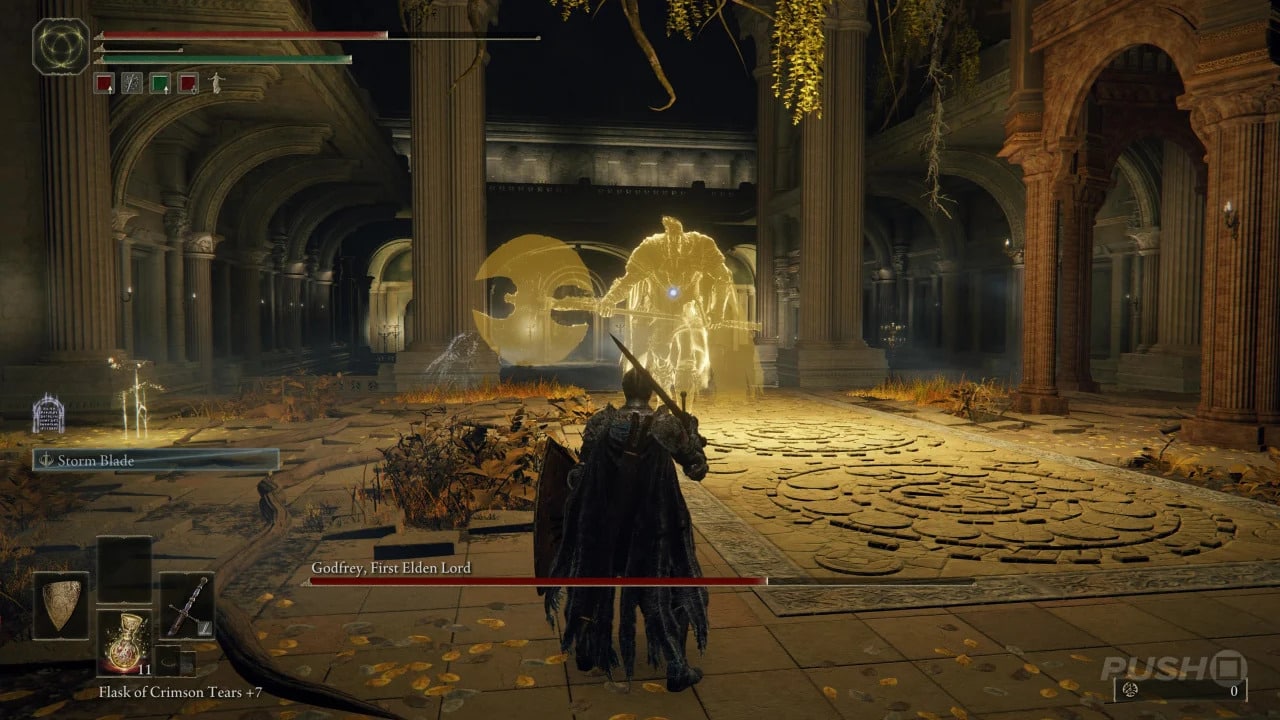 Important tips to remember and use against Godfrey are:
Staying close to him is advised as dodging close-range attacks on Godfrey is easier than dodging his long-range attacks. To dodge Godfrey's attacks you just need to roll left diagonal, towards the boss. By staying close some of his attacks will swing by without even hitting you. Though he will try to make some distance, you can close the distance again and repeat the process all over again.
Do not hesitate to put up your shield to protect yourself.
One of the attacks that Godfrey use is Stomp. The floor gets broken and you will have to dodge on perfect timing but the trick here is that his Stomp gets released in the shape of a cone, which makes the move easy to predict and hence, dodge.
Stay behind him, move around in a circle as he turns around very slower than you which can be used to attack Godfrey or to heal yourself. To heal always back up, go far away from him as you can as his overhead ax move will be perfect to deal a huge amount of damage to you,
Strike only once after the end of his moves as being greedy will cost you heavily.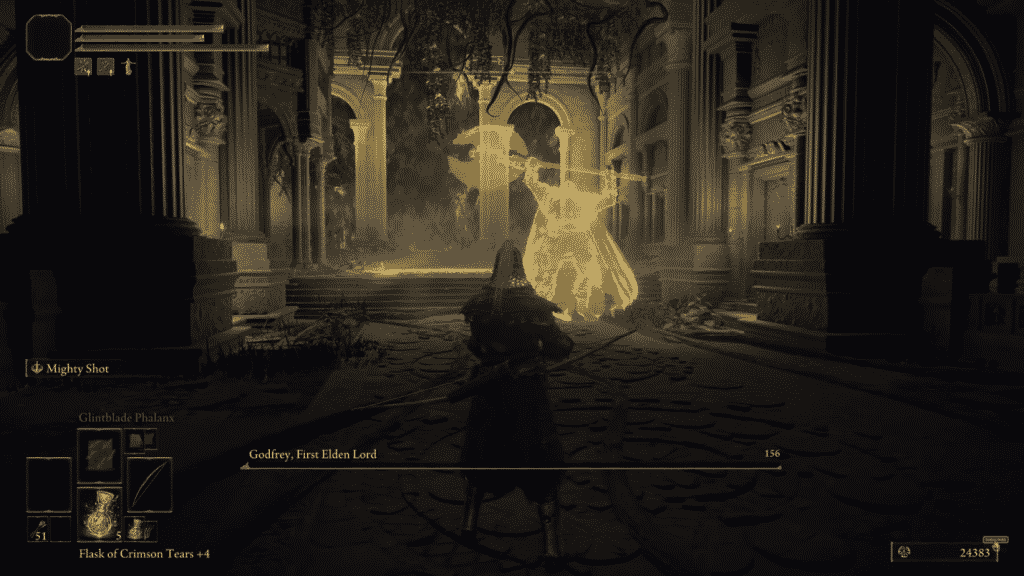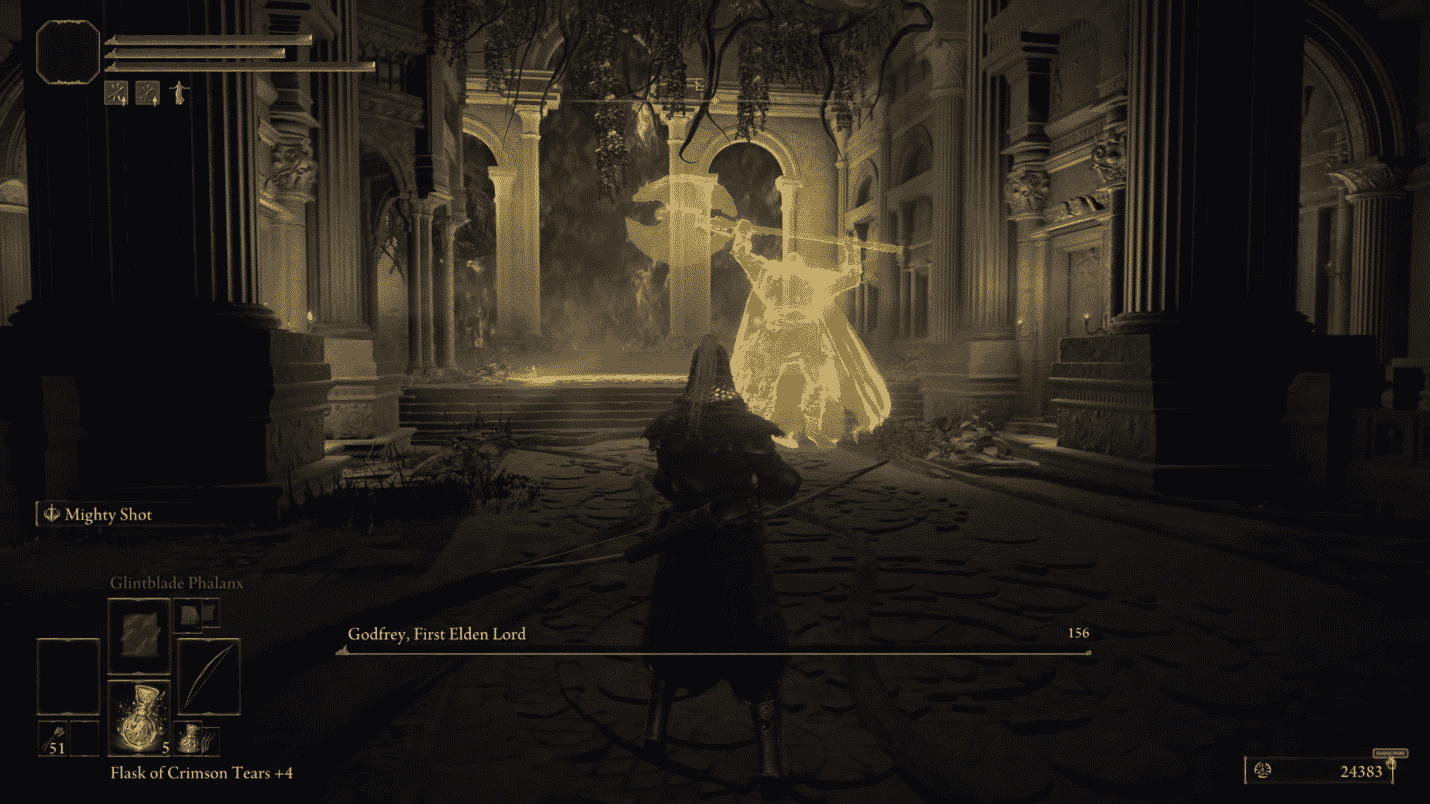 Feel the rhythm, dance around Godfrey, and strike at the right time and you will defeat the Elden without even breaking a sweat.