Valorant Premier, the much-awaited team-based competitive system, is all set to unite gaming and sports enthusiasts like never before. According to Andy Ho, the game director for Valorant, Premier will officially launch on August 29th, bringing a new level of excitement to the Valorant world.
Valorant has bid farewell to the old numerical ranking system used in test phases and has upgraded to 5 new divisions claimed as " Being better than Radiant. " In this article, we'll explore what's new and exciting in Valorant Premier.
Everything You Need To Know About Valorant's Premier Divisions
Currently, there are 5 divisions in the Valorant Premier, listed below in lowest to highest order :
1. Open 1- 5
2. Intermediate 1- 5
3. Advanced 1- 5
4. Elite 1- 5
5. Contender
Expanded Map Pool
Weekly matches in Valorant Premier will now cover all seven maps in the competitive pool. Here's a short glimpse of what's coming up:
Haven: September- Week 1 (5th-10th)
Breeze: September – Week 2 (12th-17th)
Lotus: September – Week 3 (19th – 24th)
Bind: September – Week 4 (26th – Oct 1st)
Ascent: October – Week 1 (3rd – 6th)
Split: October – Week 2(10th – 15th)
Sunset: October – Week 3 (17th – 22nd)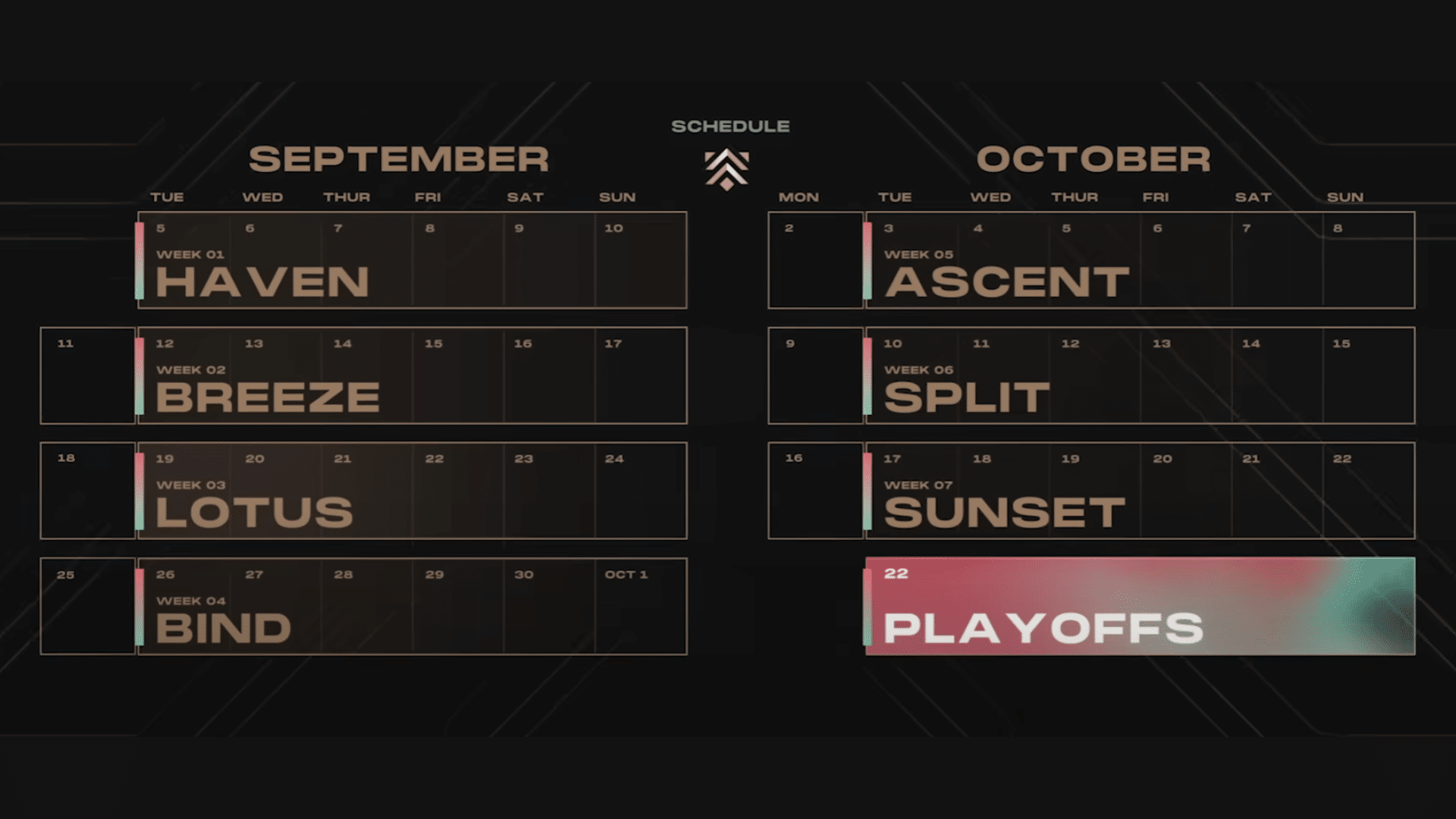 The PLAYOFFS for the Premier are set to start on October 22,  2023. However, when this event would be ending hasn't been revealed by Riot Games as of yet.
The Path to Pro
Valorant Premier is not just about gameplay. It's a journey to the pros. In Q1 of 2024, all competing players in open qualifiers for Valorant Challengers will need to have played in Contender in Premier. This replaces the status of being ranked immortal or above, making the path to pro more accessible.
In Q2 of 2024, top Contender-level teams will face off against challenger teams in a promotional or relegation event. This event will determine who gets a spot in the league.
Note: This is the first time Premier directly connects to the Challengers.
Future Updates
As 2024 unfolds, all new teams entering Challengers must climb through Premier, ensuring a competitive and exciting journey for all. Challengers and Premier will transition to a year-round ecosystem in Q4 of 2024, eliminating the long breaks between seasons.
How to Enroll in Valorant Premier
Ready to join the Premier action? Here's how you can enroll:
1. Verify Your Account: Ensure you have a verified account through SMS verification.
2. Competitive Placement Rank: You must have a rank in the competitive placement, ranging from Iron to Radiant.
3. No Restrictions: Ensure your account is free of restrictions, including competitive or communication restrictions. Any restrictions during weekly matches or the playoff tournament can lead to disqualification.
4. Team Composition: Assemble a team of 5-7 players. The team owner can invite, remove players, and disband the team if necessary.
5. Confirm Enrollment: Once the team owner confirms enrollment, the team's division placement will be determined based on the Matchmaking Rating (MMR) of its top 5 players. Your zone selection will determine the server and schedule for your matches. Confirm enrollment before the cutoff time to secure your team's spot in a division.
Also Read: Valorant guide: How to record gameplay
Valorant Premier promises an exciting journey for players of all skill levels. Its new approach to the Path to Pro is the perfect opportunity to take your Valorant skills to the next level. Get ready to enjoy this thrilling gaming adventure!