Honkai: Star Rail, the popular role-playing action-adventure game by HoYoverse, has a growing list of characters and many activities to challenge players. One such activity, Forgotten Hall, becomes accessible to players at Trailblaze Level 21. 
In the Forgotten Hall lies the Light Cone Manifest shop, offering a selection of intriguing Light Cones for Trailblazers. Let's dive into the best option among these Light Cones for players in Honkai: Star Rail version 1.4.
Light Cone Manifest Shop in Honkai: Star Rail 1.4
The Light Cone Manifest shop within Forgotten Hall presents players with seven different Light Cones to consider. Notably, every Light Cone available in this shop is of four-star rarity, making the selection process more intriguing. 
Each Light Cone corresponds to specific character Paths, so choosing the right one can significantly impact your gameplay. Among the seven choices, Fermata stands out as the best pick in version 1.4 of Star Rail. This is because it has a clear advantage on the battlefield compared to the others.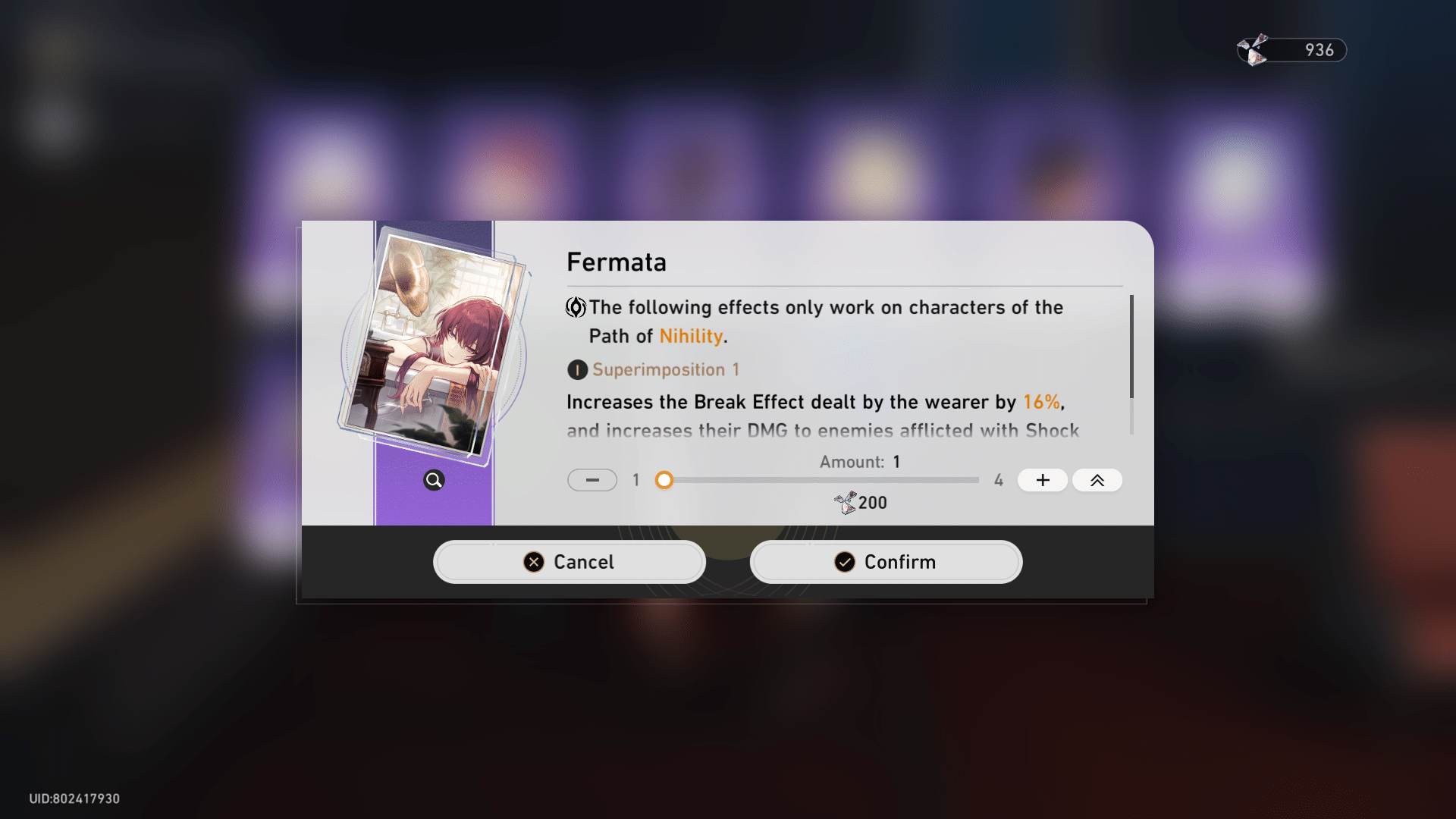 Players must exchange 200 Lucent Afterglow, the in-game currency for this shop, to obtain the Fermata Light Cone. What's more, Trailblazers can opt to purchase multiple copies of the same Light Cone simultaneously if they possess the necessary currency.
How to Obtain Lucent Afterglow in Honkai: Star Rail Version 1.4?
Lucent Afterglow is the primary currency to acquire specific Light Cones from the Light Cone Manifest shop within the Forgotten Hall of Honkai: Star Rail. Currently, players have two primary methods to obtain this currency.
Forgotten Hall Stages: Accessible from the Parlor Car of the Astral Express, the Forgotten Hall presents players with challenging stages. Players earn rewards by successfully clearing these stages, including Stellar Jades, Credits, Character EXP Materials, Light Cone EXP Materials, Relic EXP Materials, and Lucent Afterglow.
Echo of War: Echo of War offers an alternate route to obtaining Lucent Afterglow. In the current version of Star Rail, players can receive rewards from Echo of War up to three times per week. This event allows players to challenge it multiple times within the same week.
Read More: Genshin Impact 4.2 Leaks: Furina's Kit Sees Significant Changes
Therefore, the strategic choice of Light Cones can significantly influence your gameplay experience in Honkai: Star Rail 1.4. Fermata emerges as the standout option in the Light Cone Manifest shop due to its battlefield effectiveness. Meanwhile, earning Lucent Afterglow, the essential currency for these Light Cones. It can be achieved by conquering Forgotten Hall Stages and mastering Echo of War challenges.