Valorant has been surprising us by releasing new meta by launching new agents in the game, which always turns out to compete in all aspects.
This time, many Valorant players had their eyes on the most recent agent which was released in 'Episode 4 Act 1, called "Neon."
The most aggressive agent from the start of the game and the most lovable duelist is 'Jett' until now, the duelist meta is now changing from Jett to Neon. Neon is the first Filipino character to join the roster. Neon has changed the meta with it's electrifying skill set and perfect agents for aggressive players that like to take the fight to the enemies.
In this article, we are gonna be comparing agents which proves to be the most aggressive duelist in Valorant including their skills.
Neon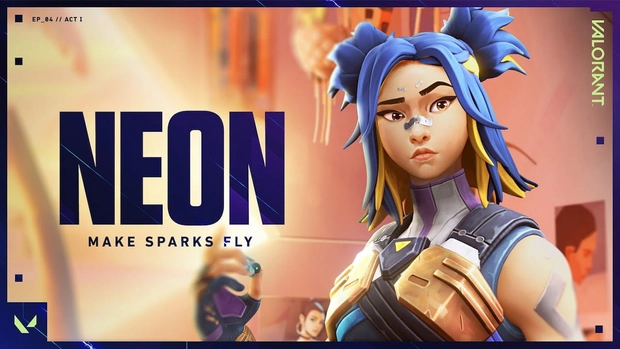 Biography
Origin: Phillippines
Race: Radiant
Gender: Female
Role: Duelist
Abilities
Passive:
Energy: Using High Gear and Overdrive consumes energy. Killing an enemy Neon restores 25 energy. It takes up to 100 Energy, 15 seconds to completely drain using High gear, 20 seconds using Overdrive. 60 seconds to replenish from 0-100.
Basic:
Fast Lane ( C ): Neon fires two energy lines forward which extends a short distance or until it hits a wall or surface, creating a wall on both sides. The wall is static electricity blocking the enemy vision and damaging the enemies passing through the wall.
Relay Bolt ( Q ): Neon instantly throws an energy bolt that bounces once and concusses enemies after it strikes the surface/ground.
High Gear ( E ): It channel's Neon's high power to increase the speed. When charged, it slides into the enemy and catches them off guard.
Overdrive( X ): Overdrive is the ultimate ability of Neon which unleashes Neon's full power and speed for a short duration. It fire's a lighting beam with high accuracy.
Neon is built for players who have great mechanical skills and leaps through the enemy frontline. With her abilities combination, she can easily catch the opponent off-guard. This is agent is considered to be one of the best duelists in Valorant at the moment and has the potential to keep that spot unless 'Riot' releases a new meta.
Jett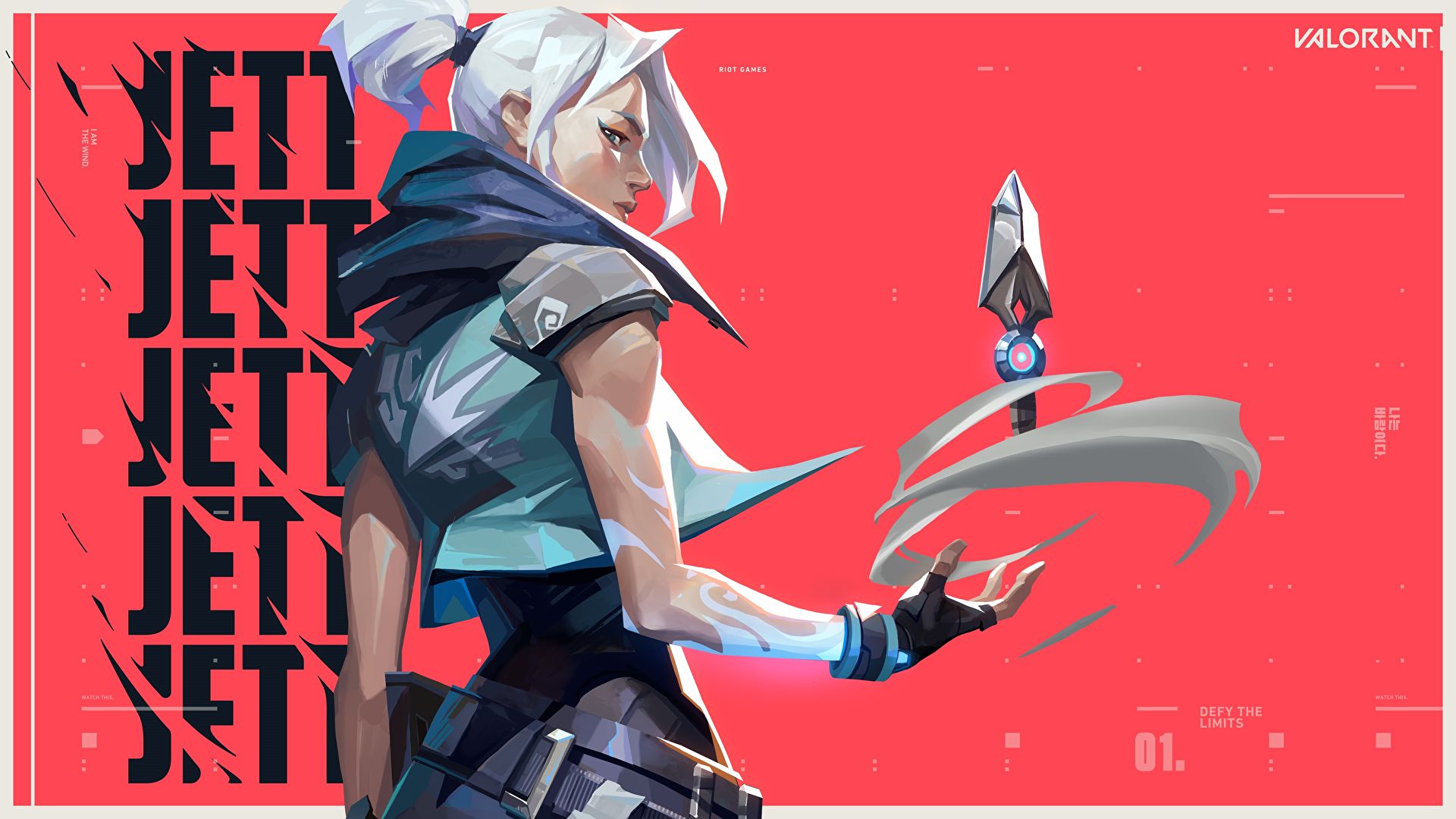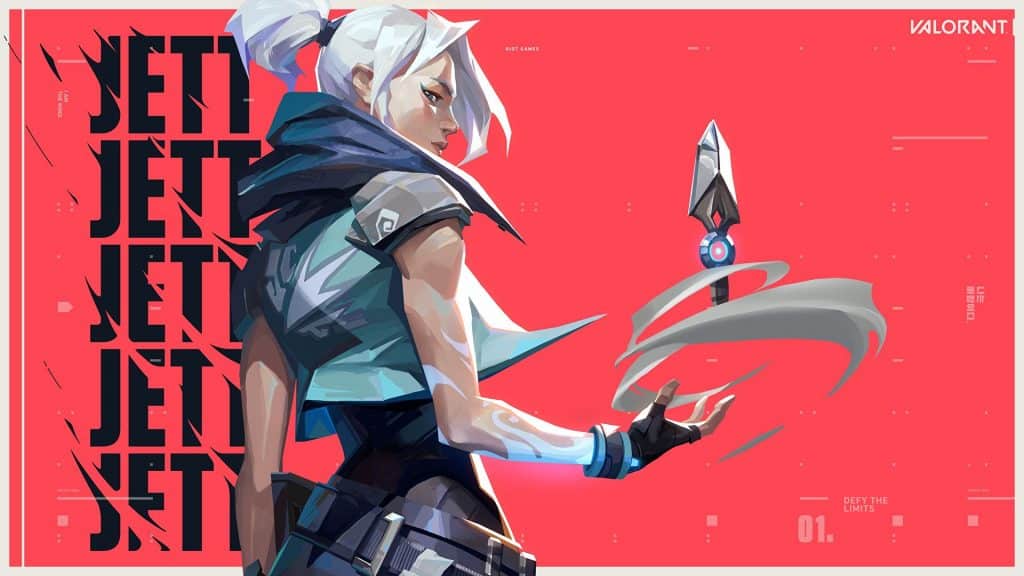 Biography
Origin: South Korea
Race: Radiant:
Gender: Female
Role: Duelist
Abilities
Passive:
Drift ( SPACE ): Jett can glide in the air if you hold the SPACE button when you are in the air.
Cloudburst ( C ): Jett instantly throws around water elemental smoke which allows her to block the enemy vision. You can also make the projectile curve by holding the ability key and MOUSE1 in the direction of your crosshair.
Updraft ( Q ): This ability allows Jett to instantly make a high jump into the air.
Tailwind: Jett instantly leaps in a direction at an incredible speed which allows her to escape from a hard position. This ability is a bit complicated for the direction, it moves depending on what direction key you pressing on your keyboard. If Jett is standing still, she will go in the forward direction.
Blade Storm ( X ): This is Jett's ultimate ability which allows her to equip a set of highly accurate knives. When you throw a blade it deals massive damage to the enemy and even if you're in the air it hits accurately. MOUSE1 to fire a single blade and MOUSE2 to fire all the remaining daggers, when you fire all your daggers it does not allow Jett to recharge if you don't get a kill.
Jett has been dominating among Duelist from the beginning of the game. It is known to be the best Dualist agent for a long time, this agent is built for players who have great sound sense and reflexes. Jett can also retreat with its one of the abilities just in case things go sideways. Until now, it has been the best Duelist in the game.
Which is the most aggressive duelist in Valorant?
After comparing, both the agents are almost similar, both of them have accuracy skills. Both the agents can block the enemy vision and catch them off-guard. Both of them can be played at a high-speed pace. But Fast Lane is much better than compared Cloudburst, Fast Lane blocks the enemy vision and also deals damage to the opponent, Cloudburst on the other hand can only block the vision. Neon is at a slight advantage here, not that it makes a difference but it is still proving to be advantageous for a duelist.
The ultimate abilities of both agents are accurate. However, Neon ultimate can beam the opponent and doesn't stop until it kills and recharges again on getting a kill. Jetton the other hand, cannot run and gun like Neon.
Now, we can conclude that Neon is the most aggressive Duelist in Valorant.