PUBG: Battlegrounds, previously known as PlayerUnknown's Battlegrounds, is an online multiplayer battle royale game developed and published by PUBG Corporation. PUBG was first initially released for Microsoft Windows via Steam's early access beta program in March 2017, with a full release in December 2017. After a year, PUBG: Mobile was released as a free-to-play game for Android and IOS.
PUBG is one of the best-selling, most played video games of all time. It sold over 70 million copies on PCs and gaming consoles until 2020. Whereas, PUBG: Mobiles numbers were more successful with 1 billion downloads in March 2021. The game also received several Game of the Year nominations.
Soon after PUBG was released, Fortnite and Apex Legends were released as Free to Play games giving them the upper hand against PUBG, and the player count for both of these games was seen to be twice higher than PUBG.
In December 2021, PUBG: Battleground has finally been announced to be free to play, and the game is set to match it's rival games Apex Legends and Fortnite in the battle royale genre. You can now access the free basic version which allows you to play most of the mods, however, if you want to play ranked or custom matches, you will need to pay $13 and get Battlegrounds Plus. Players who already own PUBG in their Steam accounts will have their accounts upgraded to Battleground Plus along with a lot of goodies in a commemorative pack.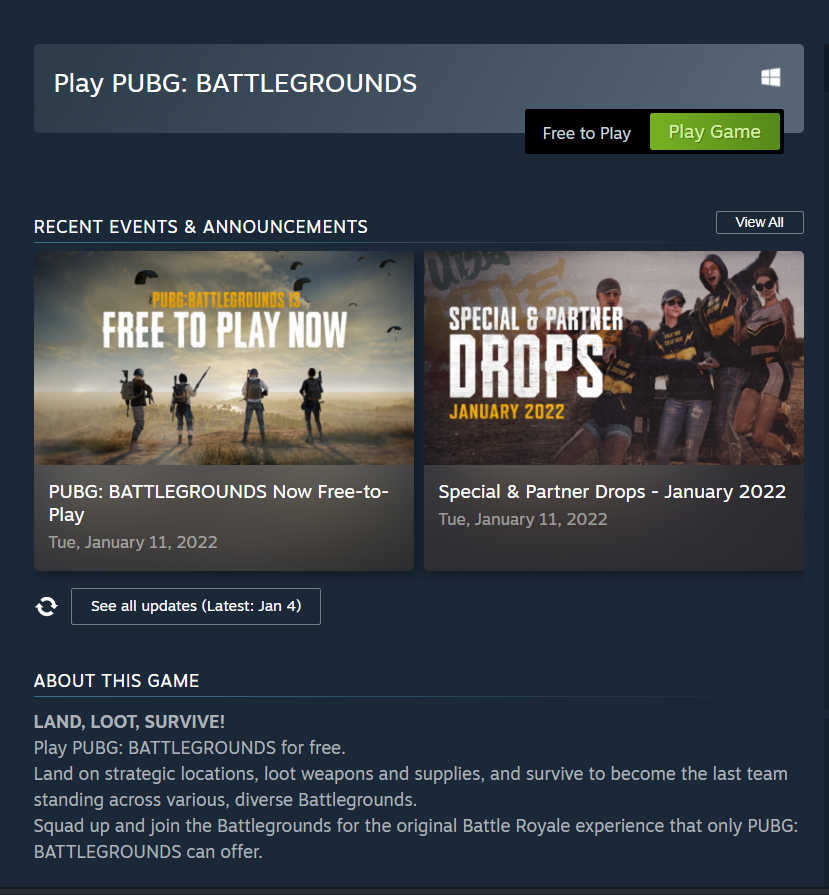 Along with the game being Free-to-Play, PUBG has added some new gameplay features and updates to the game with 15.2 Patch-notes. The new update includes Tactical Gears, new Tutorial modes along with AI Training Matches, Lobby Updates, and many more improvements.
Krafton has also announced a lot of rewards for the players through drop events, players can invite friends to get some extra bits for their character; they can complete in-game missions and watch streams and earn a lot of rewards.
After a 37 hour long maintenance, the game is now live and free to play.
Also Read: All you need to know about Minecraft's Nether Update