In terms of popularity, Vandal skins are the amongst most popular of all Valorant weapon skins. Quite simply due to Vandal being one of the most popular assault rifles among gamers that are used in Valorant as the primary weapon and are considered value for credit. In general, if a player is going to buy any skin at all, it makes sense to buy Vandal skins.
These Skins are available in the store and Night market as well. Keep in mind that once bought you cant sell or trade the skin. Take a look at the list of potential Vandal skins to buy before investing your time and money.
10 Best Vandal Skins
There are many reasons for purchasing skins in Valorant, but one of the biggest ones is the animation and finisher. Additionally, most skins with animation and kill effects offer up to four different color options. Before buying any of these skins, have a look at this list of top 10 Vandal skins.
1. Reaver Vandal

Prize: 1,775 VP.
This version of Reaver can also be called Reaver 2.0 as the original was released in the BETA version of the game. The color of the original was darker and didn't come with any finisher or animation. This time around the main attraction of this skin is the animation and finisher.
Released on October 26th, 2020 in the Reaver Collection and comes with 3 more color variants other than its original.
2. Prime Vandal

Prize: 1,775 VP
One of the heated debates amongst the Valorant player is ranking the Prime and Reaver Vandal skin. Although both of these skin comes with excellent animation and finisher the shooting sound of the vandal is the more common reason for the players to opt for Prime over Reaver.
Released on June 2nd, 2020 in the Prime Collection and also comes with 3 different color variants other than the original.
3. Champion 2021 Vandal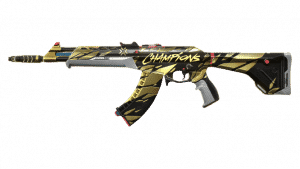 Prize: 2,675 VP.
Champion 2021 Vandal is the only skin that is limited edition as it was only purchasable between November 24th to December 21st, 2021 never to return in the night market or store as confirmed by Riot.
Nonetheless, this is one of the top 3 Vandal skins due to the animation and finisher of the skin.
4. RGX 11z Pro Vandal
Prize: 2,175 VP.
RGX 11Z Pro Vandal is the only Vandal skin with 5 different levels of upgrade, including a kill counter after the finisher upgrade. Although, the finisher of this skin is also very eye-catching.
Released on October 6th, 2021 in the RGX 11z Pro Collection.
5. Glitchpop Vandal

Prize: 2,175 VP.
Glitchpop Vandal is the most colorful and glitchy amongst the Vandal which comes with animation and a burst finisher. Cyberpunk and Neon color is the inspiration behind this skin line.
Released on February 21st, 2021 in Glitchpop 2.0 Collection and comes with 3 more color variants.
6. Elderflame Vandal
Prize: 2,475 VP
Elderflame Vandal has one of the most iconic reload animations with a dragon reloading the rifle for you while breathing fire. The finisher is also amazing summoning the dragon blazing the dead body of the enemy.
Released on July 8th, 2020 in the Elderflame Collection.
7. Forsaken Vandal

Prize: 1.775 VP.
Also known as the Sovereign Vandal is inspired by the good and evil theme. This is a good startup point for beginners who want to buy a new Vandal skin. The animation and finisher are simplistic but one to remember.
Released on June 21st, 2021 in the Forsaken Collection and only comes with 2 color options one for good and the other for evil.
8. Origin Vandal

Prize: 1.775 VP.
The thing that sets Origin Vandal apart from the other Vandal skins is not only its finisher is different but the inspect animation for this is just on another level. In the inspect animation you can control the weapon in mid-air like a Jedi using force.
Released on June 9th, 2021 in the Origin Collection.
9. Sentinel of Light Vandal

Prize: 2,175 VP.
Sentinel of Light Vandal is set apart from other skins due to its animation and color option. With pink and violet color as an option to opt from it is very unique and the finisher is also very mesmerizing.
Released on July 21st, 2021 in the Sentinel of Light Collection.
10. Sakura Vandal

Prize: 1,275 VP.
Unlike any other skin listed here, Sakura Vandal doesn't have a flashy finisher or any animation or color option to opt from. It is just a plain and simple-looking artwork on this skin that sets it apart from other options here.
Released on 22nd July 2020 in the Sakura Collection.
Summery
So, these are ten of the best Vandal skins you can choose from, but there are many others as well. In addition to the simple ones like Aristocrat Vandal, Nunca Olvidados Vandal, and many more, Battle Pass holders also had access to Nitro Vandal, Ruin Vandal, and many more.