In Valorant, skins contribute a lot to the game's style. In 2023, numerous skins have gained immense popularity and attention from players and spectators. If you prefer Phantom over Vandal and are not aware of the hype around it, this article will help you out. Here is the list of Top 5 Overrated Phantom Skins In Valorant, along with their Price, Rarity, Variant, and unique features
Top 5 Overrated Phantom Skins In Valorant
5. Rgx 11z Pro Phantom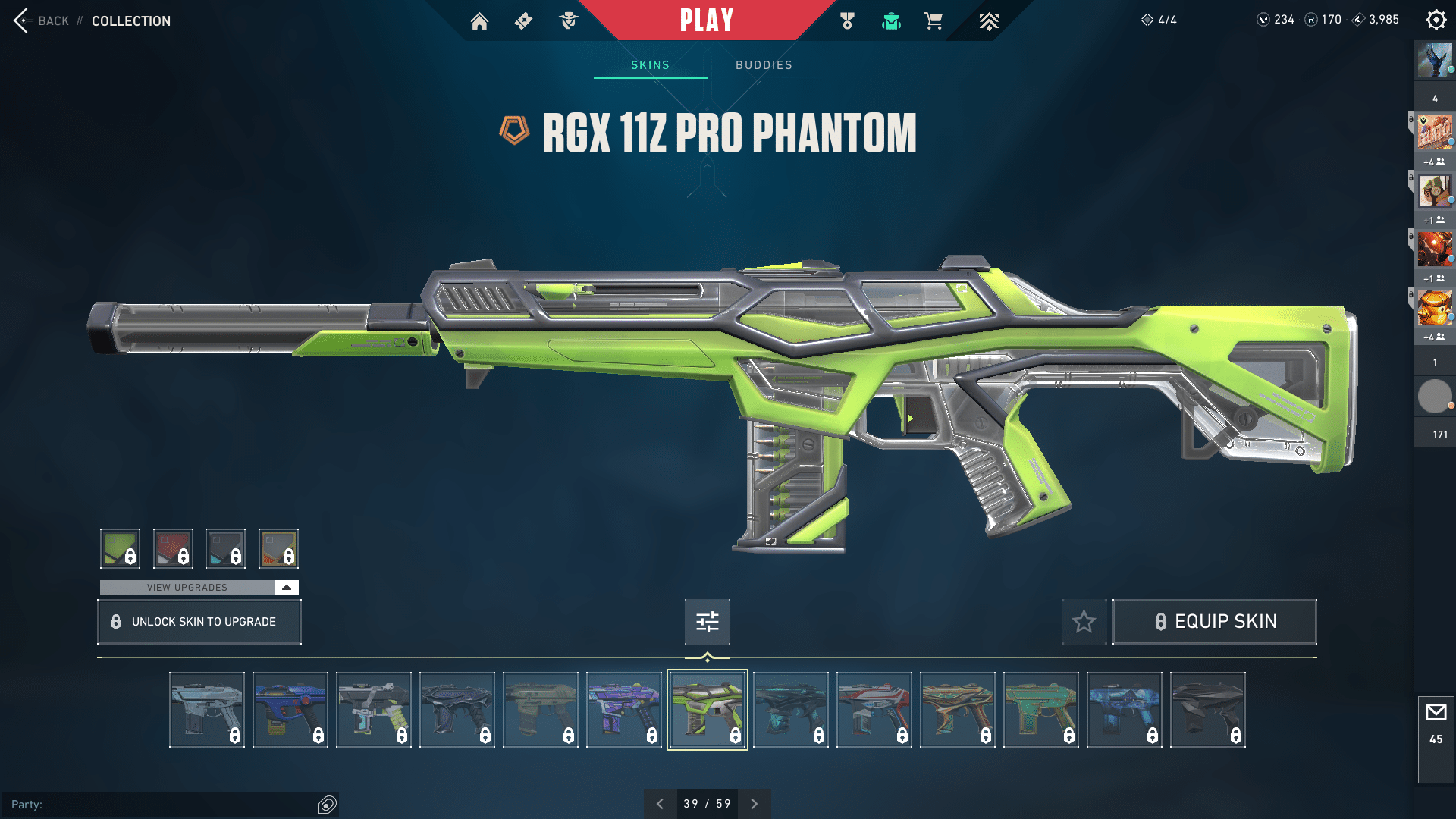 Original Price: 2175 VP
Rarity: Exclusive Skin Tier
Variants: Green, Blue, Yellow and Red
Interchangeable colors and rotating gear inside the gun are the best features of this skin. The sound effects of this skin are really satisfying, and the visuals come with RGB lighting. Its kill counter feature makes it the most unique, basically, the number of kills showcased on the skin. The skin might look heavy, but actually, it feels really light and smooth.
RGX 11Z PRO 2 Phantom | #VALORANT pic.twitter.com/epRdPgPIsD

— Espor Analist (@esporanalist) April 24, 2022
4. Chronovoid Phantom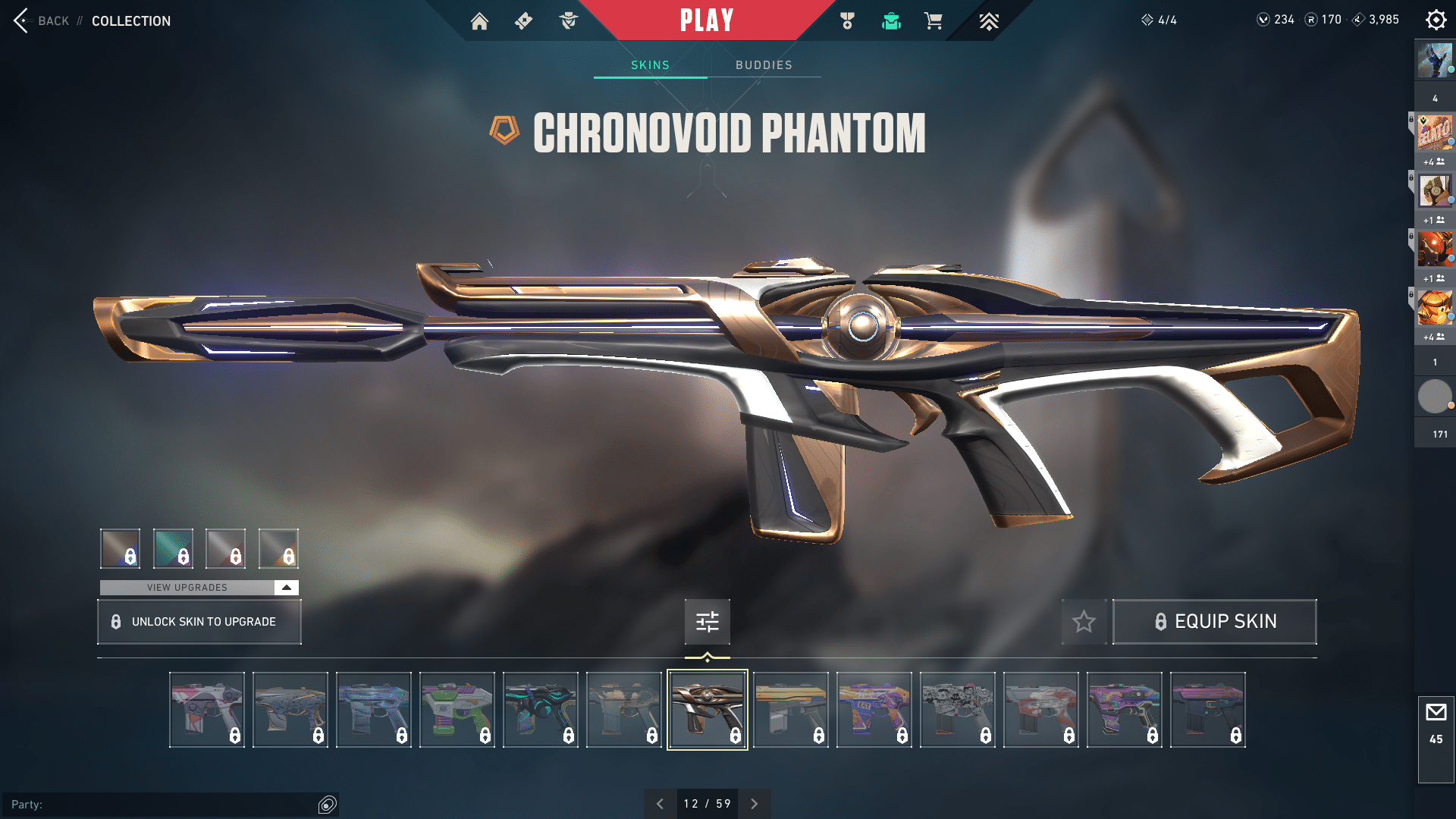 Original Price: 2175 VP
Rarity: Exclusive Skin Tier
Variants: Original, Purple, Red & Black
In terms of sophistication and uniqueness, this skin is among the best. This skin gives off a modern mechanical vibe, especially its floating and rotating mechanical orb in the middle. The rotating orb gives off a glow from between, which also can be seen in the finisher of this beautiful skin. Every variant of this phantom skin transforms the gun into something more fresh and luxurious. The most preferred variant is the original white and gold.
the chronovoid phantom is the best gun in valorant pic.twitter.com/wROCDEN20W

— bm1 (@bm1tv) March 15, 2023
3. Spectrum x Zedd Phantom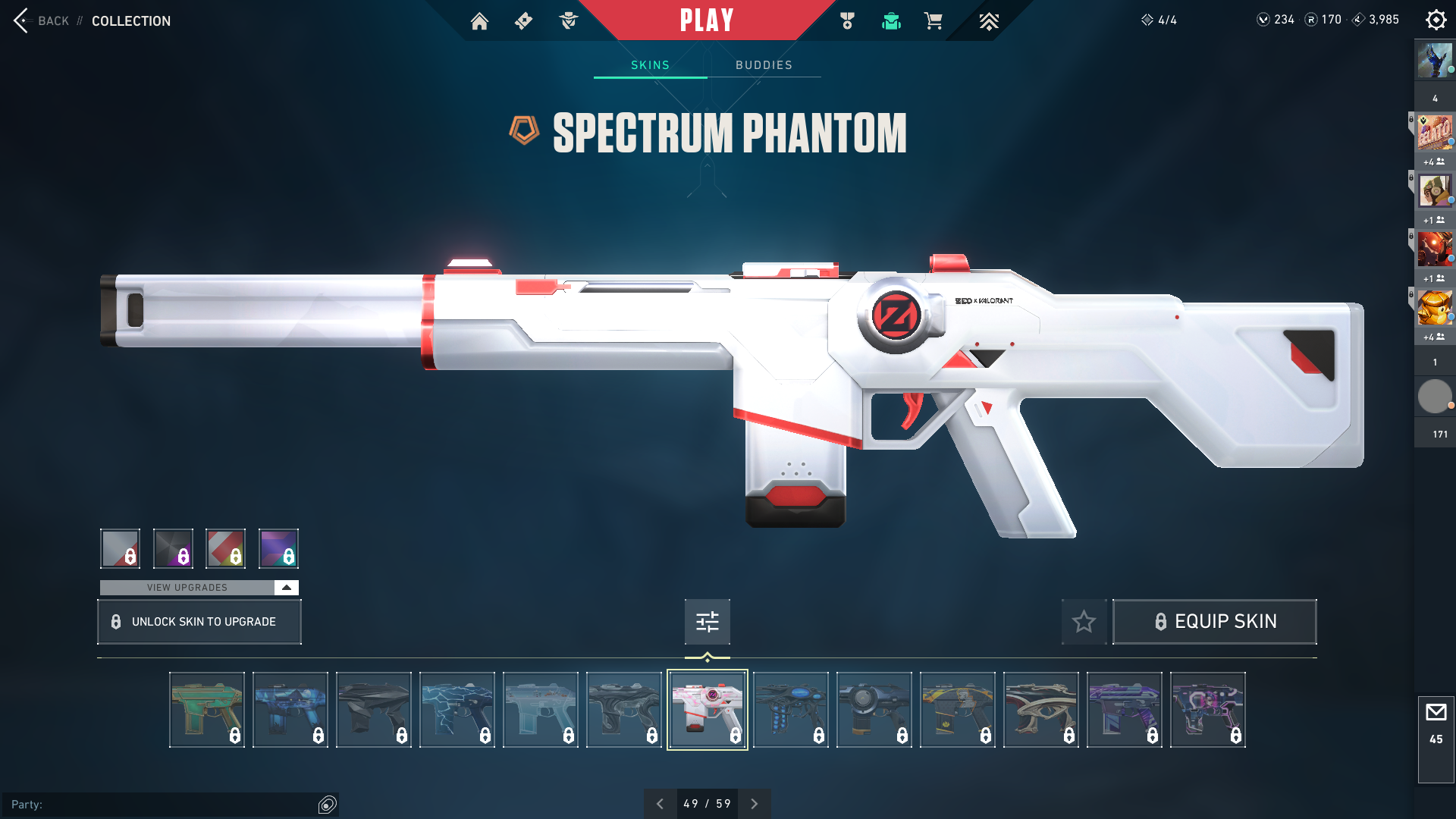 Original Price: 2675 VP
Rarity: Exclusive Skin Tier
Variants: White, Black, Red & Purple
This skin gives off a special spaceship-like design that feels straight out of "Guardians of the Galaxy.". Its muzzle animation and the sound effects overall give a very light feel. It's one of the most famous choices among streamers and YouTubers. Also, the inspect animation features a unique soundtrack by ZEDD, which makes it stand out from other skins.
anyways, spectrum phantom is so slay pic.twitter.com/4Co8fGKUv4

— ⋆。゚☁︎。⋆。 ゚☾ ゚。⋆ (@makkyyb) April 4, 2023
2. Champions 2022 Phantom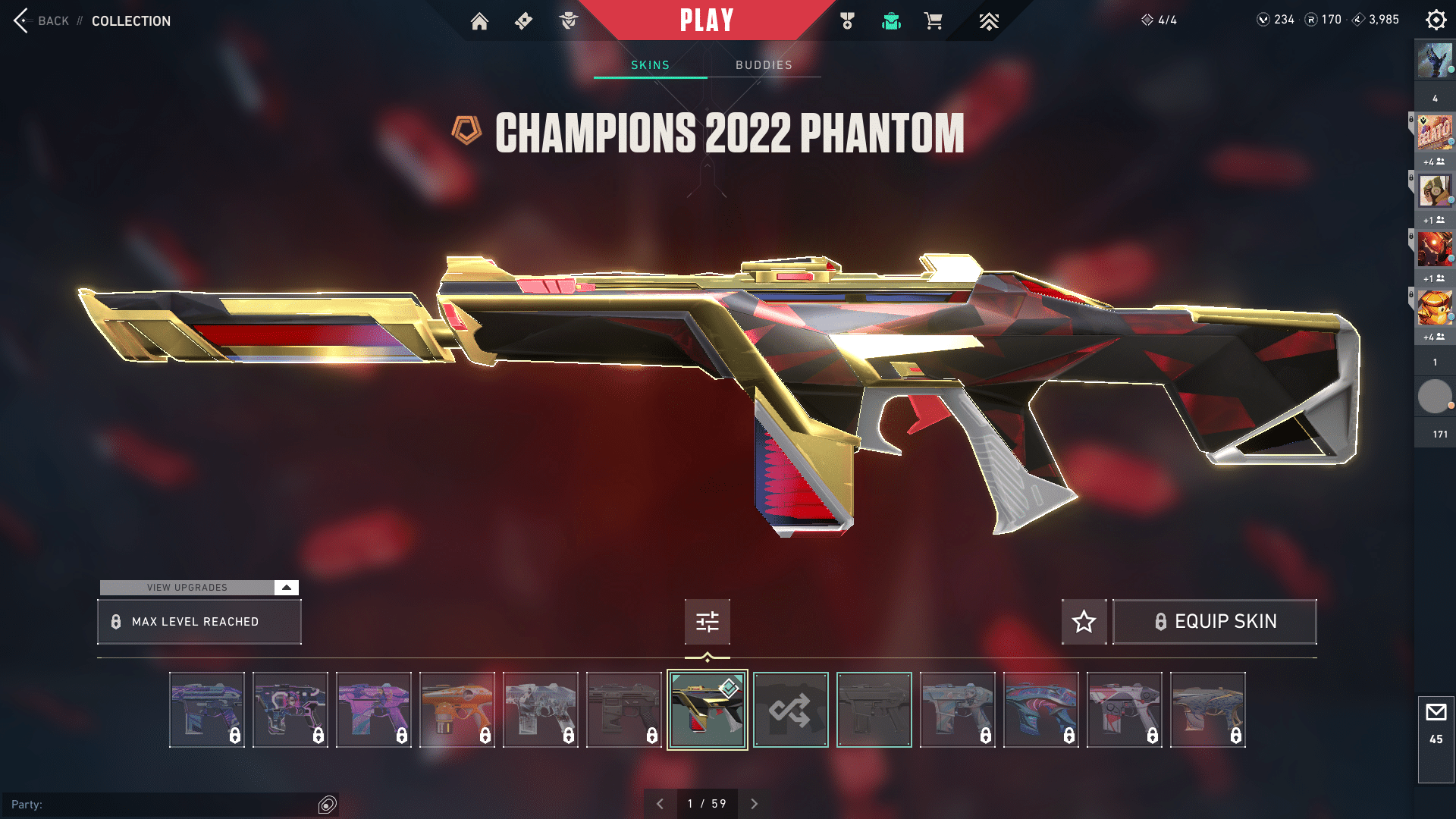 Original Price: 2675 VP
Rarity: Exclusive Skin Tier
Variants: Original.
No other phantom skin can ever beat this skin. This skin is like its name, the "CHAMPIONS" of the phantom skins. Its most unique feature is the glow effect when the player is the match MVP. Other than that, if a player has more than 25 kills, it transforms into a red crystallized texture. This skin has the best finisher and comes with the 'Die For You' soundtrack, making this skin perfect.
phantom champions é o segredo pic.twitter.com/RHSRdb28Ib

— davi (@chapok1ng) September 6, 2023
Also Read: 5 Most Overrated Vandal Skins In Valorant 2023
1. Recon Phantom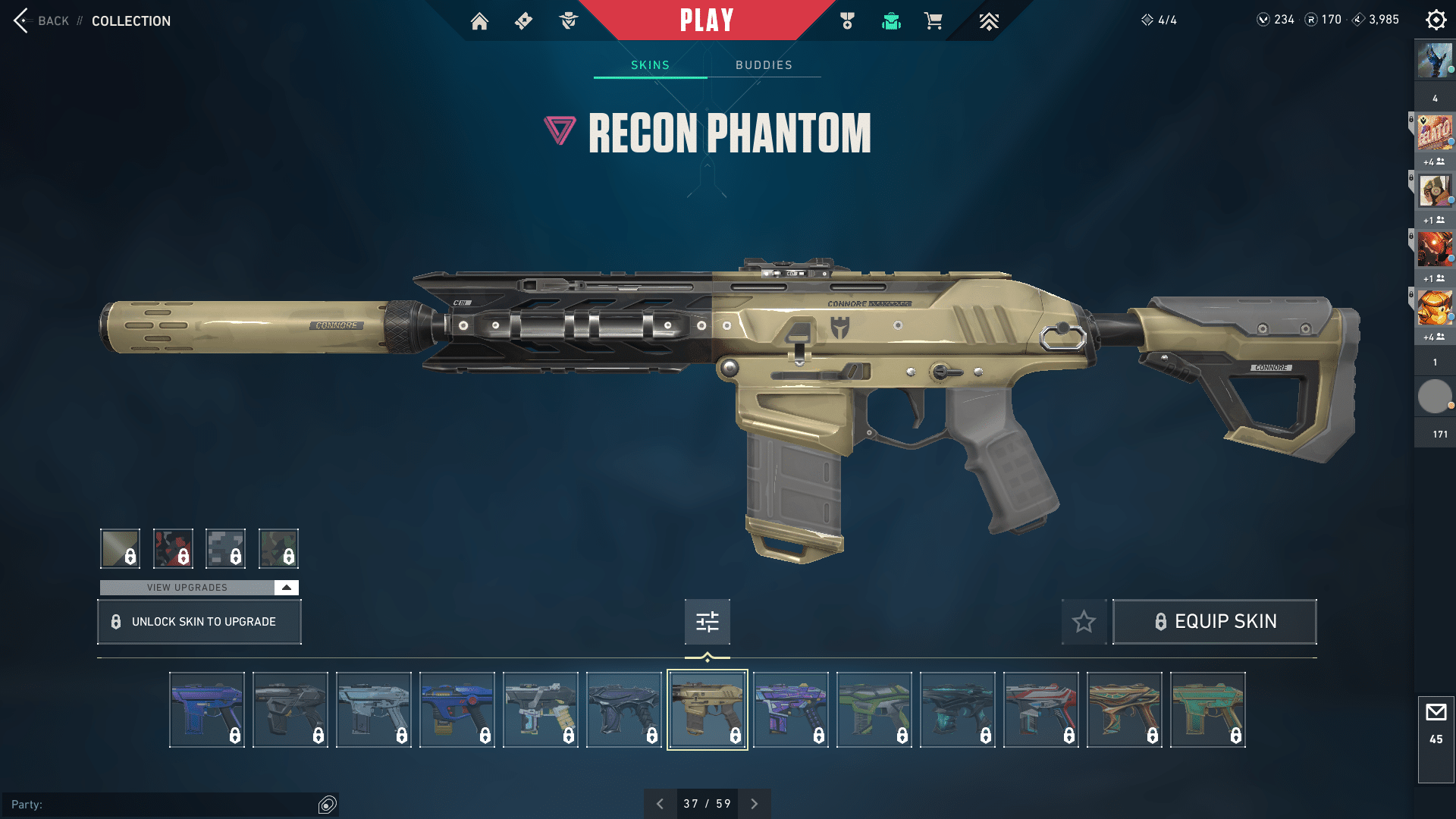 Original Price: 2175 VP
Rarity: Exclusive Skin Tier
Variants: Original, Red, Blue & Green
Although this skin was released on August 24, 2021, it began to gain popularity and recognition during the VCT (Valorant Championship Tournament) 2023. This particular skin was spotted in almost every competing team. The incredible shots they pulled off in front of thousands of spectators (offline and online) made it even more appealing for the players to purchase. Hence Making it one of the most purchased phantom skins in 2023.
Recon phantom 🤩 pic.twitter.com/lqwoaahQ5w

— Raiznvalo (@ionzlul) September 3, 2023
Phantom skins are not just accessories but also emotions for the players. These were the top 5 this year, but it depends on whether you prefer the glamour and shine of Champions 2022 or the simplicity and subtlety of Recon Phantom. So whether you are a fan of neon lights, modern textures, or rotating orbs, valorant offers plenty of choices to suit your taste.