bA free upgrade to the Baldur's Gate 3 Digital Deluxe Edition will be given to players who buy the game before its official release. As a mark of gratitude for supporting the game during Early Access, this kind of offer comes with a sizable amount of digital content. Baldur's Gate 3 is a party-based RPG game, rich in story developed by Larian Studios in a world of Dungeons and Dragons.
The upgrade to your current purchase of Baldur's Gate 3 will be live at launch. Contributing early might be a smart move if you enjoy collecting skins, digital artbooks, and soundtracks. We're here to fill you in on the specifics of the pre-order incentives for the next video game from Larian Studios.
What are we getting in Baldur's Gate 3 Digital Deluxe Edition?
The launch price of Larian Studios' forthcoming game will be $59.99 and £49.99 the developer has stated. However, based on Steam's suggested regional pricing, prices in other currencies might fluctuate.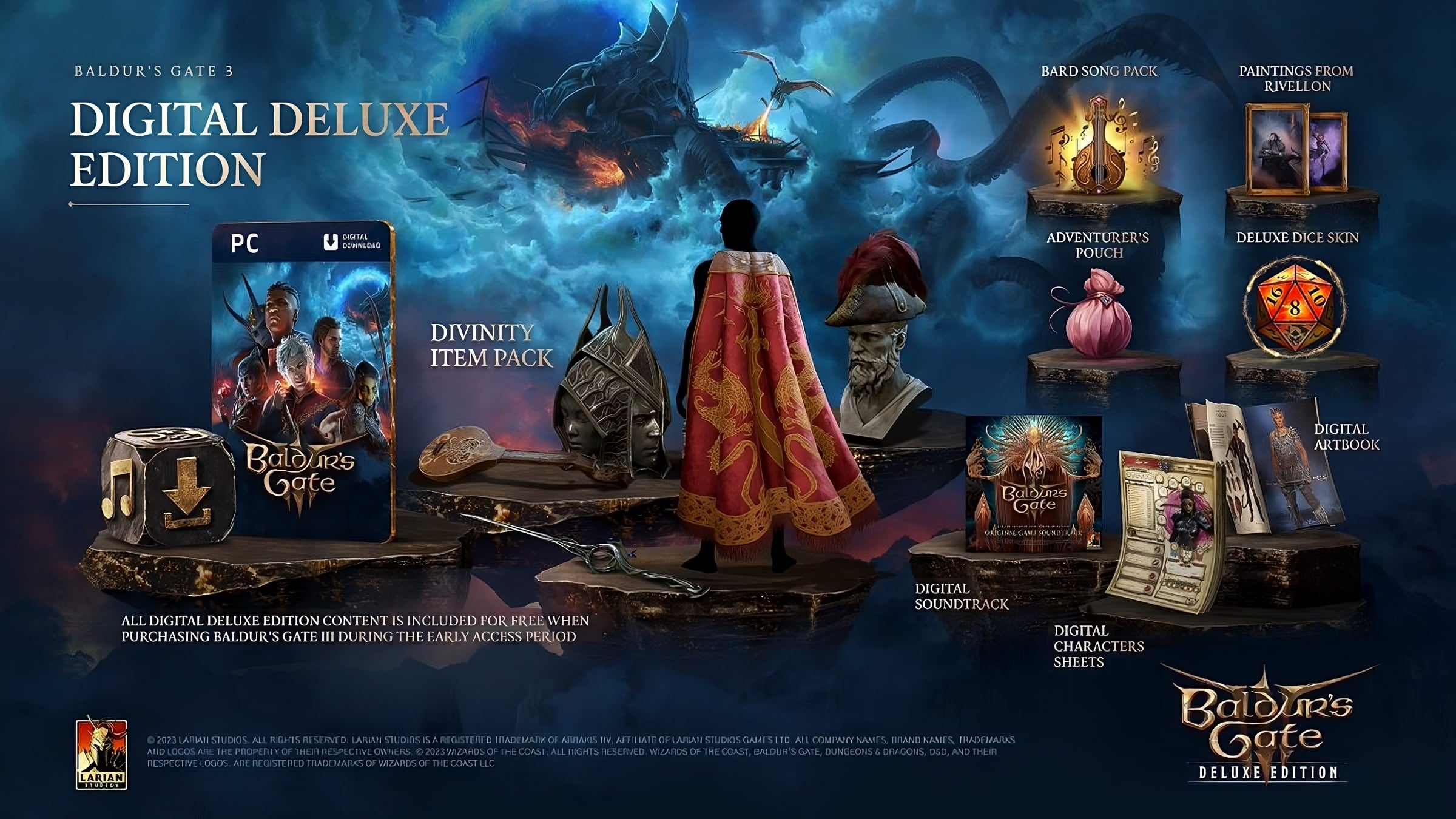 Baldur's Gate 3 Deluxe Edition's contents seem to be premium, including a digital soundtrack, an art book, and priceless in-game goods that will be useful to explorers. The free upgrade will include: 
Divinity Bard Song Pack – Play the songs from Larian Studios' masterpiece, Divinity.

An exclusive skin for the D&D dice depending on whether your edition is on PC or PlayStation

Treasures of Rivellon Pack – Four unique artifacts based on characters from Divinity

Adventurer's Pouch – Extra equipment to help you on your starting journey

Digital Original Soundtrack

Digital Artbook

Digital Character Sheets

Mask of the Shapeshifter – Inspired by the skeleton, Fane this mask will allow you to change your appearance anytime at will.

Cape of the Red Prince – Gear

Lute of the Merryweather Bard – Ingame instrument

Needle of the Outlaw Rogue – Dagger

Bicorne of the Sea Beast – Gear
Read More: Baldur's Gate 3 will have a lot of endings
There is plenty of time to think over your purchase and take advantage of the free upgrade offer. Baldur's Gate 3 is not expected to be released until August 3, 2023, for PC. September 6, 2023, is the release date for the PlayStation consoles.