The ongoing season of Rainbow Six Siege offers a plethora of treats, including two new Elite Skins for Thorn and Thunderbird. Ubisoft has already released the Elite Skin for Thorn, joining the ranks of exceptional sets for Operators such as Thermite, Lion, and Ace.
Players will undoubtedly be delighted to discover the new permanent elite skin in Thorn's collection, which is now readily available for use. With Thunderbird's Elite Skin on the horizon, Siege fans have even more to look forward to in the current season. This exciting addition adds more variety and customization options for players to enjoy in the popular tactical shooter game.
What do we know about the Elite set of Thorn?
With the Fearsome Blaze Uniform, special headgear, victory dance, and operator cards, along with these extra enhancements for weapons, gadgets, and the Chibi Charm, Thorn's elite skin offers a complete package for players to customize and express their unique playstyle and personality with a Celtic touch added to their gameplay. Previously, the elite set was leaked to be released this season, and now Ubisoft confirms it with their beautiful trailer.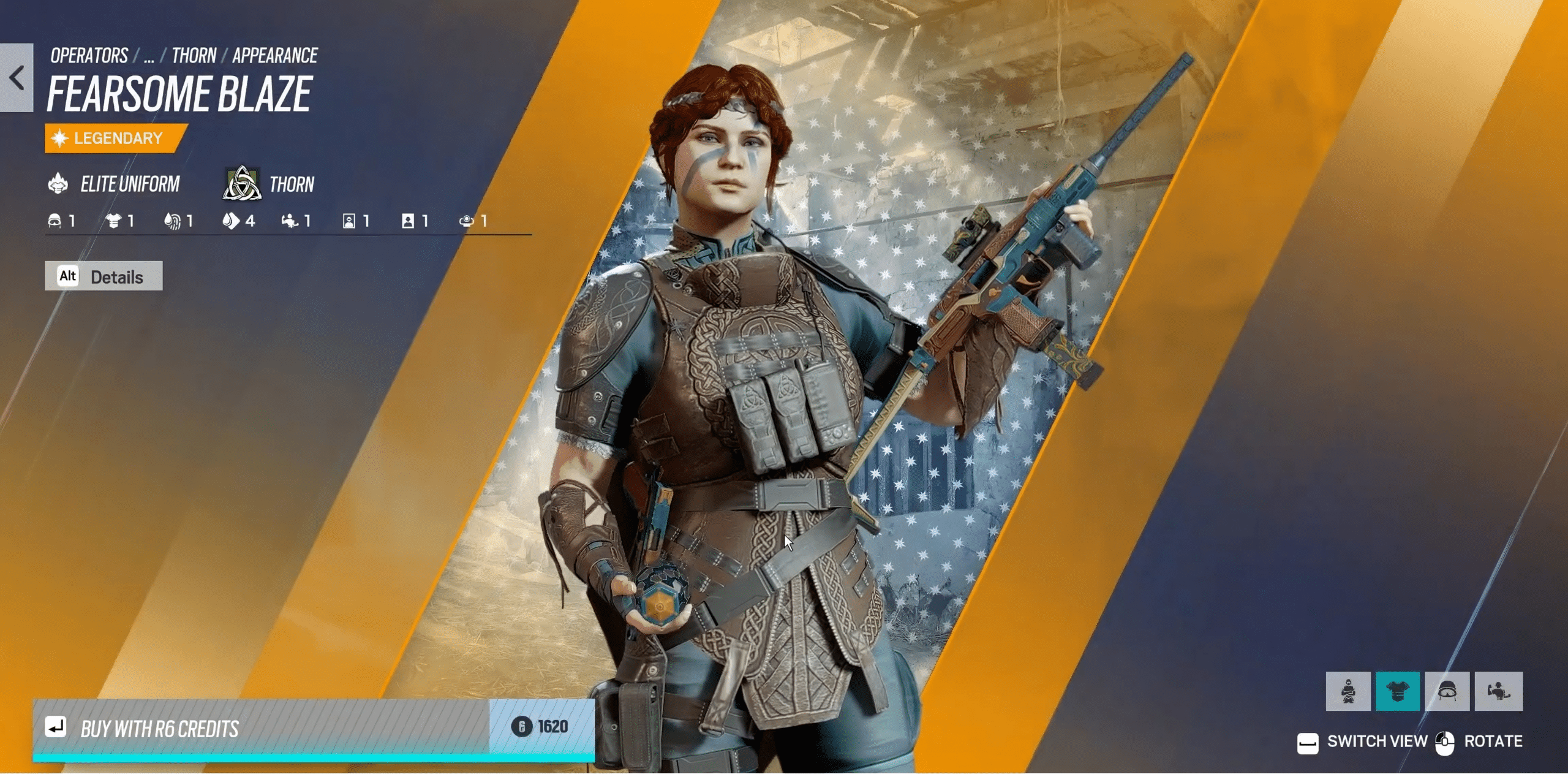 Thorn's elite skin in Rainbow Six Siege comes with a range of impressive upgrades, including new weapon skins. These weapon skins give a stylish and cohesive look to Thorn's UZK50GI, M870, 1911 TACOPS, and C75 AUTO making her stand out on the battlefield. Thornhails from Ireland, a country with a rich Celtic heritage could be the inspiration behind this set.
Apart from this, the elite skin set also includes a skin for the Razorbloom Shell. There is a victory dance like all other elite sets which portrays a particular animation. It plays out if and when the player is an MVP with Thorn in the last round. The animation is fierce yet mesmerizing.
Read More: Best Rainbow Six Operators You Can Try
Thorn's Elite will cost 1800 Rainbow Six Credits equal to $16/Rs 1313/14.24 Euros/12.27 Pounds. With the Battle pass, it will have a discount of 10% costing 1620 Rainbow Six credits or around $14.