Warframe players, get ready to feel the dark vibe of Dagath. She is the 54th Warframe set to join the arsenal of Digital Extremes' free-to-play looter-shooter, Warframe. With the new update, players will get many quality-of-life changes and a new story. 
In this article, we'll walk you through everything you need to know about Dagath, from her release date to her unique abilities, weapons, and stylish cosmetics.
A complete overview of Dagath in Warframe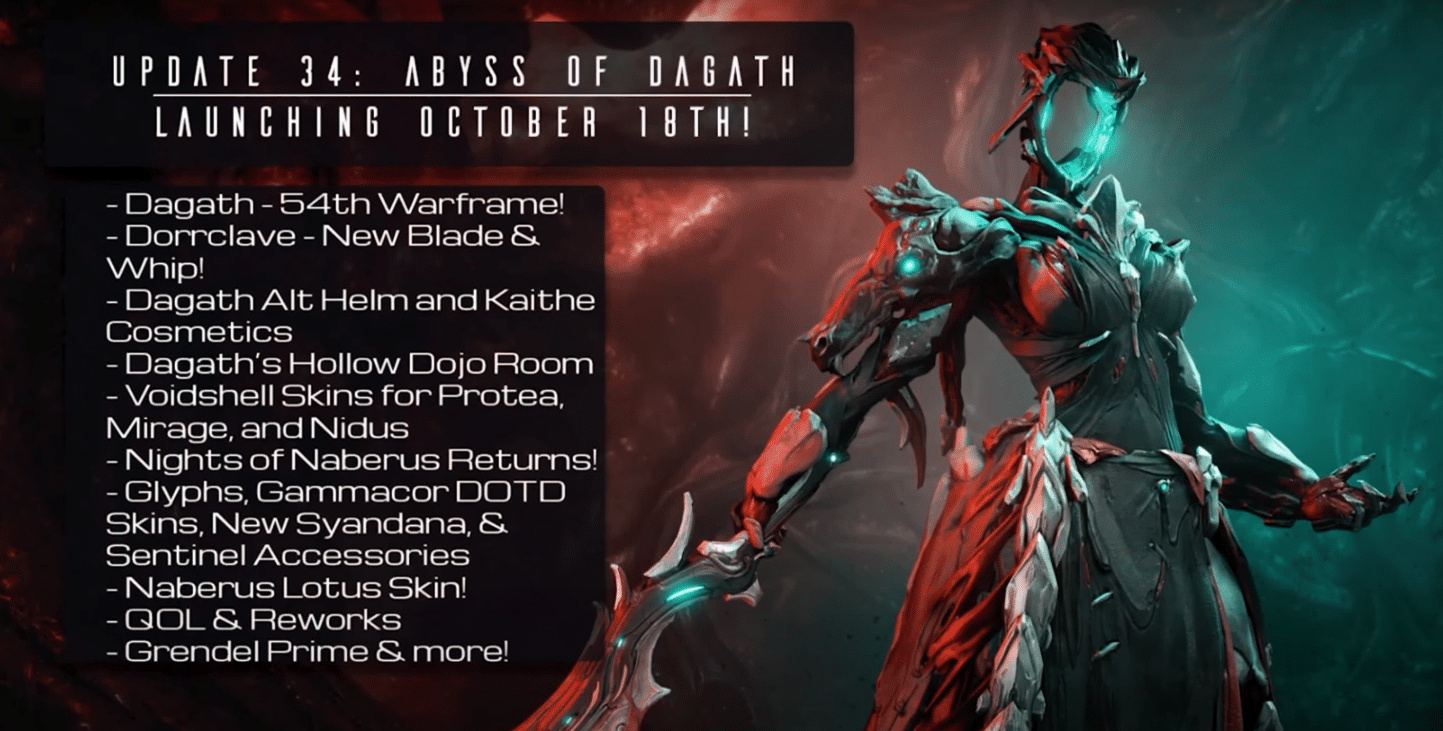 Dagath's Release Date in Warframe
Mark your calendars for October 18, 2023, when Dagath is making her grand entrance in Warframe. She'll be part of the Abyss of Dagath update, promising the addition of this fantastic Warframe and new story missions to dive into.
All Dagath's Abilities in Warframe
Dagath is a powerhouse in the damage per second (DPS) department, specializing in viral elemental damage. As you level her up, you'll unlock her four active and one passive abilities.
Wyrd Scythes: Her first ability allows her to summon spectral sickles that deal area-of-effect viral damage to enemies. If a spectral sickle connects with an enemy already affected by Phantom Wrath, it resets the viral damage duration and spreads it to nearby foes.
Doom: With her second ability, Doom, Dagath conjures spectral energy from her head, inflicting low damage and applying the Phantom Wrath status effect to enemies. This status effect synergizes with her first ability for additional damage.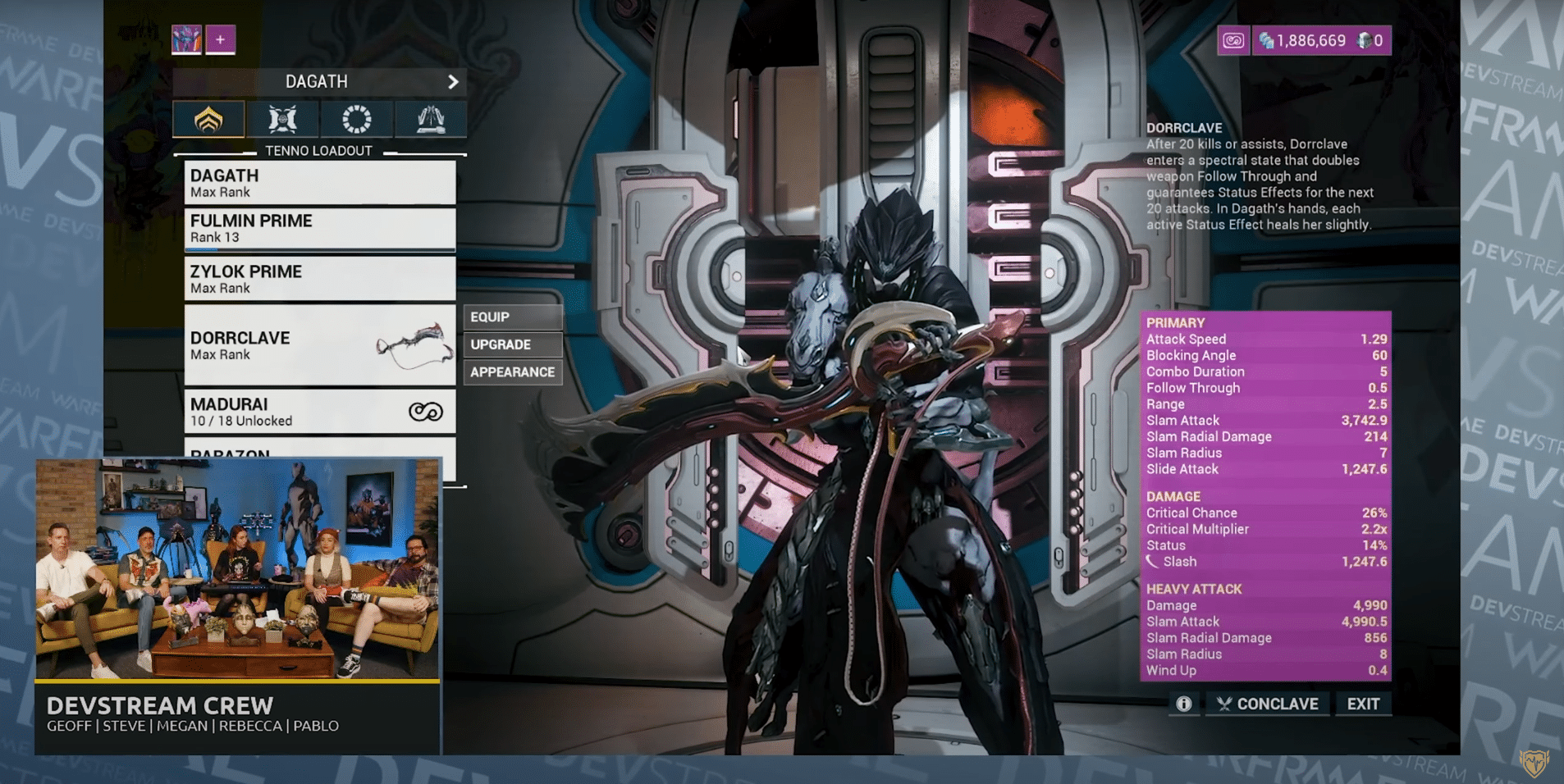 Grave Spirit: Dagath's third ability, Grave Spirit, prevents her from dying when active, transforming her into a spectral form. In this form, she deals increased critical damage and gains protection from the Spectral Realm. Keep in mind that Grave Spirit has a cooldown.
Rakhali's Cavalry: Dagath's ultimate ability, Rakhali's Cavalry, allows her to summon five spectral horses that charge toward enemies, dealing massive viral damage. The horses reduce the target's defenses if enemies are afflicted with Phantom Wrath.
Abundant Abyss: Dagath's passive ability, Abundant Abyss, lets her feed on the souls of defeated enemies, with a chance to increase the effectiveness of health and energy orbs she collects by three times.
Dagath's Weapon in Warframe
Dagath wields a distinctive weapon called the Dorrclave, a blend of a sword and whip. This weapon is known for its speed and delivers slam attacks and slashing damage. What sets the Dorrclave apart is its ability to enter a spectral state after 20 kills or assists, doubling the weapon follow-through and guaranteeing Status Effects for the subsequent 20 attacks.
Dagath's Dojo Room in Warframe
Dagath's ominous presence extends to her Dojo Room in Warframe, a haunting dungeon housing the Shrine of Dagath. Here, you can acquire Dagath and her weapon blueprints through the shrine.
Read More: Wuthering Waves: Everything We Know So Far!
Therefore, Dagath brings a robust set of power and style to the world of Warframe. Her abilities, weapons, and cosmetic items make her a must-try addition to the player's Warframe collection. Get ready to embrace the darkness on October 18, 2023, and explore the Abyss of Dagath.