Neuvillette is an upcoming top-tier character who is a win-win in both looks and damage in Genshin Impact. He is a 5-star Hydro-Catalyst user, and his charge attack looks like Goku's 'Kame Hame Haa,' which deals significant damage. 
Neuvillette in Genshin Impact also holds some respected titles like Ludex or Chief Justice in Fontain. He is famous there for his wisdom and impartiality in judgment. Neuvillette belongs to a unique mermaid-like race known as Melusine. If you need a Hydro DPS in your team and are thinking of wishing on his banner, this article is perfect for you. It will provide all the necessary information that you need. 
Neuvillette from Genshin Impact: A Complete Overview
Neuvillette: Abilities
Charged Attack Empowerment: Legal Evaluation
Neuvillette's charge attack forms a Seal of Arbitration, which absorbs nearby Sourcewater Droplets to increase the speed of the seal's formation. It also heals based on his maximum HP. If his charged attack gets interrupted, another charged attack is called Equitable Judgment.
Charged Attack
This attack consumes a specific amount of stamina to create an AoE Hydro Damage attack, which looks like 'Kame Hame Ha.'
Elemental Skill: O Tears I Shall Repay
This ability of Neuvillette brings a Raging waterfall, which damages enemies with three Sourcewater Droplets. Also, a Spiritbreath Thorn emerges, dealing with Pneuma-aligned Hydro Damage. 
Elemental Burst: O Tides, I Have Returned
Neuvillette's ultimate releases a rupturing wave of water, dealing AoE Hydro Damage. Its damage is based on his maximum HP. Later, two waterfalls fell, dealing damage in small areas and generating six Sourcewater Droplets. 
// Neuvillette Kit Leaks

I made an edit because of their similar abilities. Kinda tired of Traveler being such a downgrade lmao. pic.twitter.com/2JQlfln7cn

— Fayin 🐷👑 (@FayinKay) August 17, 2023
Neuvllette: Constellations
Venerable Institution (C1)
Neuvillette gains a stack of Past Draconic Glories upon entering the field from passive talent called "Heir to the Ancient Sea's Legacy." It adds interruption resistance during his charged attack.
The Law Commands (C2)
It enhances "heir to the Ancient Sea's Legacy," which boosts the CRIT damage during the charged attack- Equitable Judgement. It boosts up to 42% based on Past Draconic Glories stacks.  
Ancient Fiction (C3)
Increases Normal Attack: As Still Waters by 3 levels.
Crowned in Compassion (C4)
Neuvillette generates a Sourcewater Droplet, which repeats every 4 seconds when he is completely healed on the field.
Axiomatic Judgement (C5)
Increases Elemental Burst: O Tides, I Have Returned by 3 levels.
Wrathful Recompense (C6)
It allows him to absorb all surrounding Sourcewater Droplets with his charged attack called Equitable Judgement and extends its duration.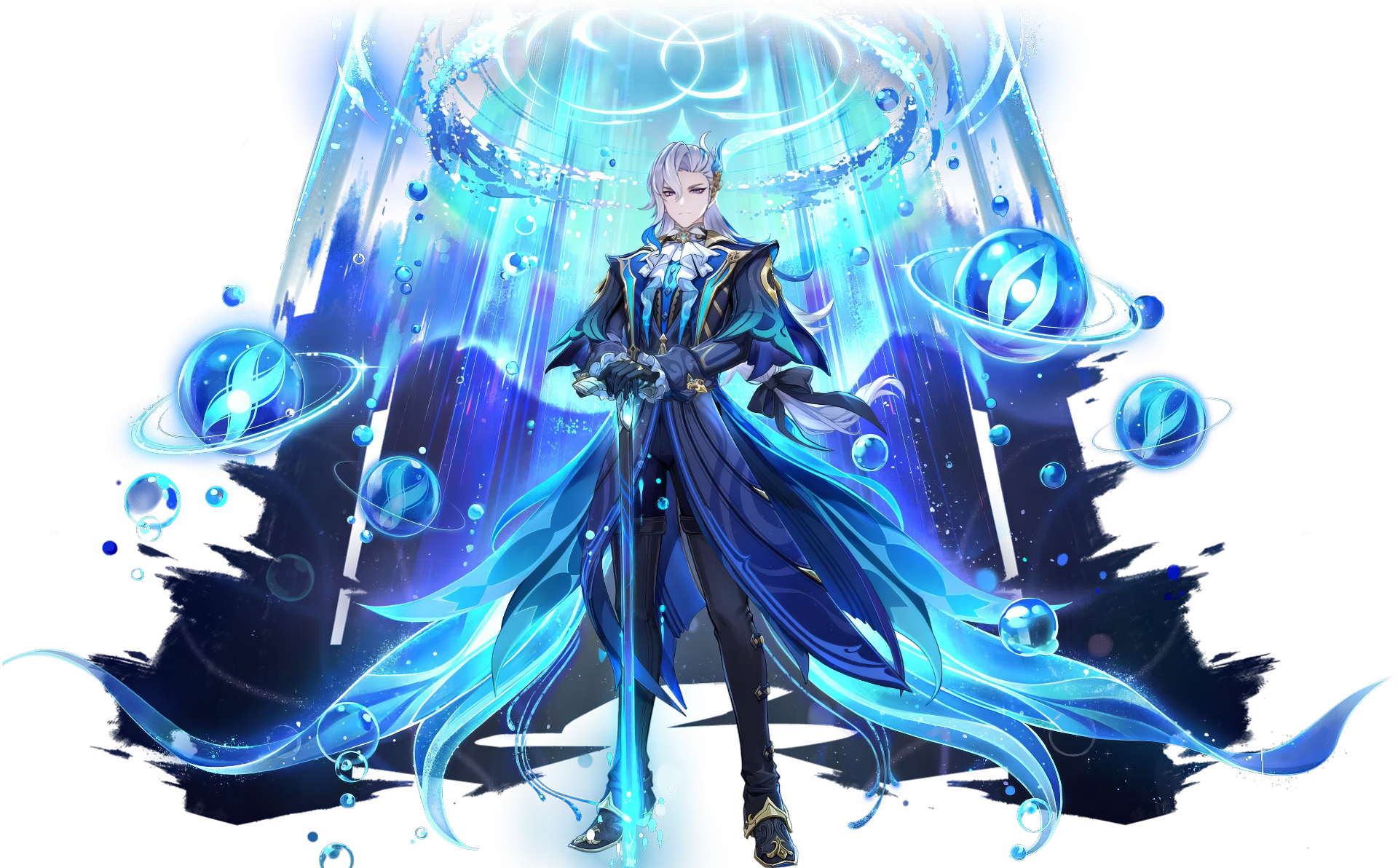 Neuvillette: Passive
Heir to the Ancient Sea's Legacy
When any party member triggers specific elemental reactions, Neuvillette gains almost three stacks of Past Draconic Glories, which lasts up to 30 seconds. It boosts the damage of Equitable Judgement.
Gather like the Tide
It boosts the underwater movement speed of every party member by 15%.
The High Arbitrator's Discipline
He gains a 0.6% Hydro Damage Bonus, maximum 30%, for every 1% of his HP when above 30%.
Read More: Wriothesley In Genshin Impact: A Complete Overview
Therefore, Neuvilette can be a good Hydro DPS to pull in Genshin Impact. He will follow a charge-based attack style, and his constellation and passive abilities make him quite valuable. His banner will come in version 4.1. We have yet to determine in which phase his banner will come.