Team Fortress 2 reached its biggest milestone with its biggest peak concurrent player count to date. The game is well-liked by people all around the world, despite being published in 2007. It is a free-to-play game that provides a variety of classes, each of which has its own advantages and contributes to the game's own personality.
A considerable uptick in player engagement following the recent summer update has re-energized the game's community. The summer update consists of new community maps and security and stability improvements. This article will discuss what we know about the high player count that is going on.
What do we know about the high player count?
The game has passed a new milestone, breaking its previous record with over 253K peak concurrent players. The player population will continue to rise as more players come to know about this. In the past, Team Fortress 2 consistently maintained between 60K and 80K concurrent players every month. The game has reached new heights thanks to a recent summer update, though.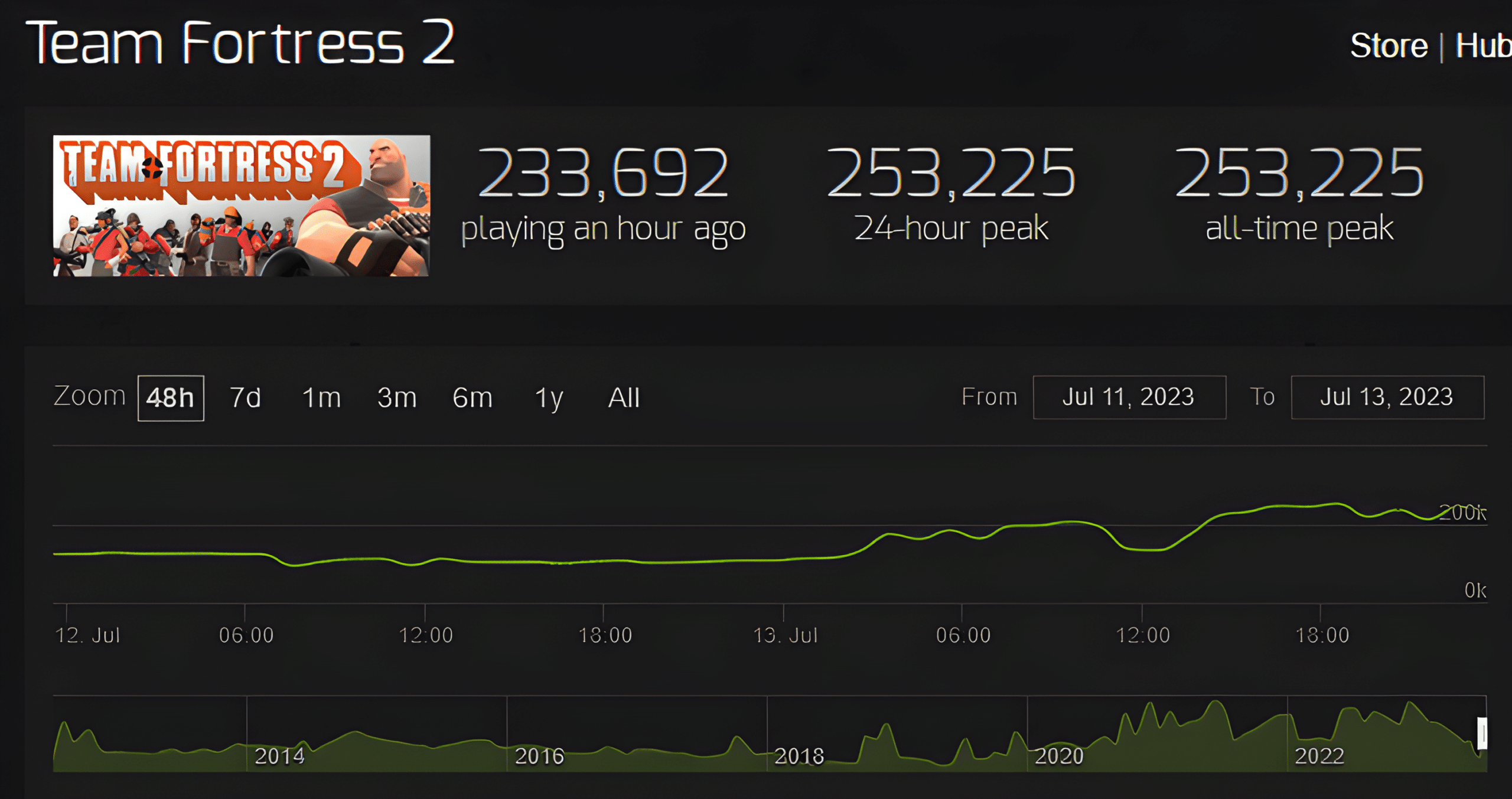 14 new community maps are included, some of them being Rotunda and Cashworks. The update also includes 6 new community-contributed taunts and 25 new community-contributed objects that appear in the Summer 2023 Cosmetic Case. The update also fixes several bugs and balancing concerns. For further information, players may see the whole list of modifications.
The latest milestone for Team Fortress 2's phenomenal success suggests a bright future for Valve's class-based shooter. This accomplishment is encouraging for both Team Fortress 2 and Valve's other well-known games. Dota 2 continues to receive annual upgrades while Counter-Strike: Global Offensive has already received a much-anticipated update, demonstrating Valve's dedication to providing enjoyable gameplay across all of their titles. Valve is eager to keep providing great gaming experiences. While improving online multiplayer gaming thanks to its unwavering commitment from its player base. 
While we enjoy the new summer update, make sure to wishlist for Counter-Strike 2, and if you get lucky, you might be one of the few to play it in early access while it remains.