Topaz is a leaked 5-star character coming in Honkai: Star Rail in the upcoming updates along with Jingliu. She will be the first Fire Element character who follows the path of The Hunt. She can be a powerful main DPS when she is released. 

Players are waiting for more leaks related to her. Here, we will discuss all related information and leaks related to her in detail, from her abilities to her identity. 
Topaz from Honkai: Star Rail- Everything we know so far!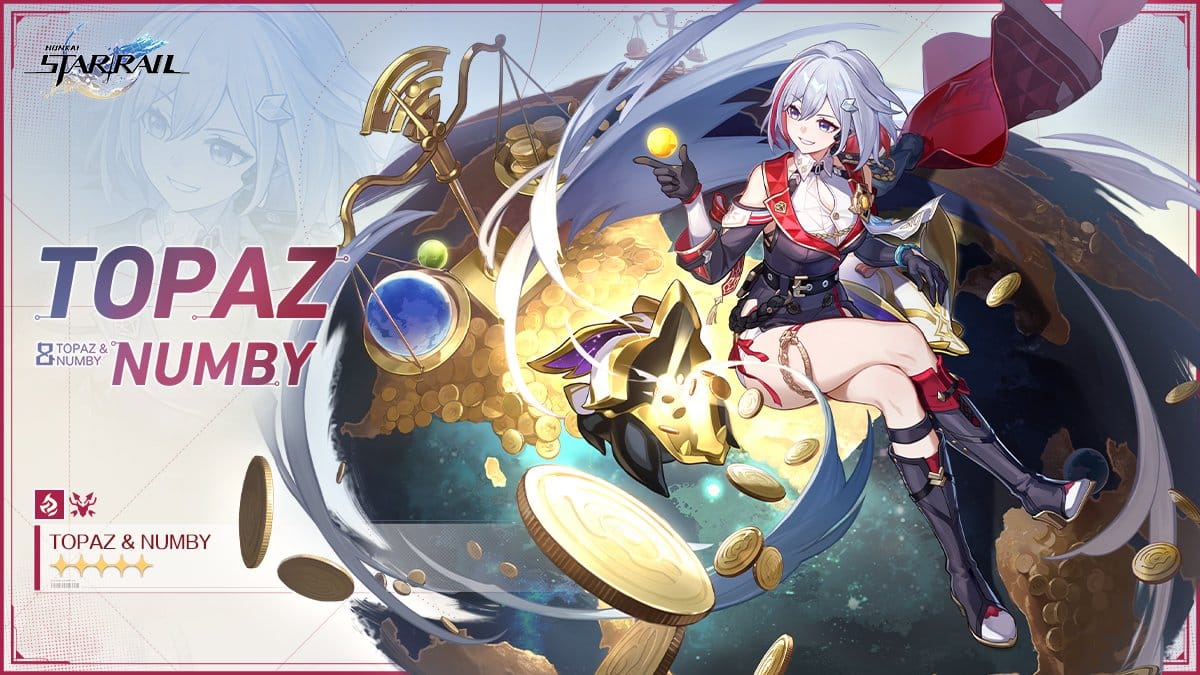 Topaz: Who is she in Honkai: Star Rail?
Topaz is going to be a fantastic character who is coming in future updates in the game. Her element is fire, and she follows the path of The Hunt. Her role in Honkai: Star Rail is the Senior Manager of the Strategic Investment Department. She is unique as her abilities differ from any other character, and she can summon a companion, Warp Trotter, to battle with the enemies. 
Topaz: Release Date
It is sad because we still don't have a confirmed release date for Topaz. However, according to some information leaked by the Honkai: Star Rail community, Topaz's banner may come in version 1.4 along with Jingliu.
Topaz: Skills and Abilities
Even though Honkai: Star Rail did not reveal anything about Topaz, leakers got their hands into some excellent information. Given below are all the abilities, skills, and talents. 
Standard Attack: "Deficit"- She deals fire damage to one enemy because she is a Hunt character.
Skill: Her unique skill is that she can summon a pet known as Warp Trotter. This pet can deal with fire damage, too. It can inflict burn status two times on the enemies. Also, burned enemies take extra fire damage at the start of each round.
Ultimate: "Turn a Profit"- When she casts her ultimate, the Wrap Trotter gets a buff, increasing its CRIT Rate for the subsequent two consecutive attacks. It also deals additional fire damages for two rounds.
Talent: "Pig Market"- At the beginning of every fight, she gives a single, which Numby follows. These signals help Numby to automatically track Warp Trotters and Basic Treasure chests around the map. Also, Topaz gains the energy spent on the first attack by Numby.

Topaz- Eidolons
Honkai: Star Rail always brings the best into their characters when making their Eidolons, and Topaz ideally has them. Below are the leaked Eidolons of Topaz-
Incentive Mechanism (E1)- After Topaz uses her ultimate, Numby gets an extra attack.
Steady Growth (E2)- When an enemy who is marked with "Attack Mark" receives a follow-up attack, the strength of "Attack Mark" increases.
Catch Big, Release Small (E3)- This Eidolon increases Topaz's Skill and Basic Attack.
Agile Processing (E4)- With the start of Numby's turn, Topaz receives an acceleration in her action.
Need for Inflation (E5)- This Eidolon increases Topaz's Ultimate and Talent.
Friendly Takeover (E6)- During Numby's "Astonishing Increase" state, its fire resistance increases, and Topaz may receive her skill points back when she uses her skill. 
Read More: Everything to learn about Jingliu in Honkai: Star Rail. 
From the above-leaked details about Topaz, we can see that she is a fantastic character with a unique kit. Her skills and talents are excellent in Honkai: Star Rail. Searching for Warp Trotters and Treasure Chests becomes easier with her on your team. Still, it will be better for everyone to wait for an official reveal of Topaz's skills and abilities, as all the above-leaked information may change.